Grandma Esther's Traditional Potato Latkes
By Karin Greenberg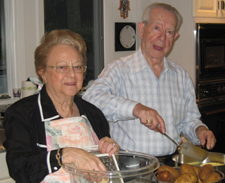 Crisp, fragrant potato pancakes--or latkes--are familiar treats in many Jewish homes during the Chanukah holiday. But you don't need to be celebrating Chanukah to enjoy these luscious and easy-to-make treats.
Eighty-five-year-old Esther Milich, who was born in Germany, has been making latkes, much to the delight of her family, for most of her life. She doesn't use a recipe. In fact, when asked to share the secret of her delicious latkes, Esther needed help figuring out the quantity of each ingredient.


The best help there was
When it came to making potato latkes, Esther enjoyed help from her husband, Saul, shown here at the age of 92, several years before he passed away. Saul grated the potatoes for her, as did for every Chanukah of their 68-year marriage.
Here is Esther's authentic family recipe--one that will help make anyone's festival of lights--or any special dinner--more delicious.
Grandma Esther's Potato Latkes
Makes approximately 4 dozen pancakes
5 lbs. of well-scrubbed russet potatoes, unpeeled
2 eggs, beaten
2 medium onions
Salt
Pepper
½ cup matzoh meal (you can substitute flour)
Oil for frying

Heat oven to 250 degrees, to keep latkes warm during cooking process.
Grate the potatoes. [Note: Esther likes to do it the old-fashioned way, using the fine side of a hand grater. But to save time and work, use the grating disc of a food processor; or, for even more texture, the shredding disk.)
To help keep grated potatoes from turning gray, minimize their exposure to air. Place them in a colander lined with a clean dish towel, and fold the towel over the potatoes. Or else place the grated potatoes in a large bowl and cover them with water. When all the potatoes are grated, drain them very well, pressing them firmly into a colander while blotting with a dish towel or paper towels.
Grate the onions by hand, or by using the grating disk of the food processor.
Put the drained, grated potatoes and the onions in a large mixing bowl; add the eggs, plus salt and pepper to taste; mix well.
Add the matzoh meal to the potato and onion mixture and mix with a large spoon. Add more matzoh meal, if the consistency of the mixture seems loose, which will cause the latkes to fall apart. Use the spoon to remove any water that collects in the bowl.
Heat the oil in a large frying pan. When a teaspoon of the mixture turns brown within one minute, the oil is ready for frying.
For each latke, put one to two tablespoons of the mixture into the frying pan. Brown well on both sides. Drain latkes on paper towels.
Place cooked, drained latkes on a cookie sheet and keep warm in the oven until all are prepared. Serve with applesauce and sour cream.
You might also enjoy:
More ways to make holidays memorable