Party flower ideas: Versatile floral design by Chrissie Harten
We're always on the lookout for great designs that you can recreate and/or customize to bring a beautiful addition to any party you plan.
We recently came across the work of an extremely talented floral designer in the UK. Chrissie Harten is a well-known flower expert, teacher, and writer for floral design publications. She calls her Web site A Flower Arranger's Garden. Harten has posted a seemingly endless number of floral designs on her site, along with complete descriptions of how she achieved each look.
While all of her designs are beautiful, this modern arrangement, pictured on her Web site, really got our attention. It seemed perfect for stylish entertaining, and incredibly versatile!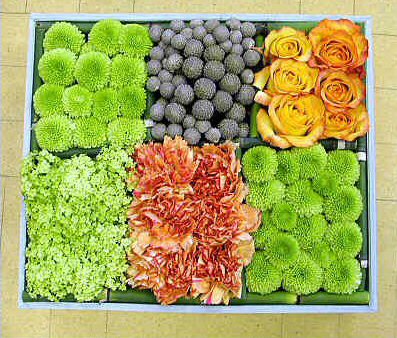 For this design, Harten says she used a silk-covered shallow wooden box, about 3 inches high, and made it waterproof inside by using a double layer of aluminum foil. She then filled the container about halfway up with floral foam.
To finish the design, she wrote, "All the flowers* were cut short and massed together to form blocks of colour. Finally, I defined the edges of the box and each square with lengths of Equisetum hyemalis (Snake Grass), cut to size. This design is best viewed from above, and so would be suitable for a low coffee table, side table, or similar position."
We think it would be beautiful almost anywhere, in almost any size (for small arrangements, use only one or two types of flowers), and using almost any color scheme!
*Flowers: For the design at the top, Harten used (clockwise, from top left): green "Yoko Ono" spray Chrysanthemums, Brunia albiflora, orange roses, more "Yoko Ono" chrysanthemems, orange standard carnations, and Viburnum opulus "Rosea." Image source: A Flower Arranger's Garden.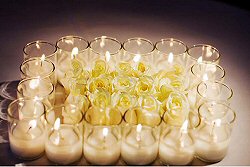 Here's an example of a similar idea, executed exquisitely by Meritage Events, of Dallas and Austin, Texas. Look how gorgeous this centerpiece is, and how brilliantly it lights up an evening table.
In this case, the beauty of the centerpiece is its glittering simplicity: several rows of yellow roses surrounded by flickering votives.
Image source: Meritage Events.
More pretty ideas for gorgeous parties