Glamorous holiday evening wear
By Jessica Koslow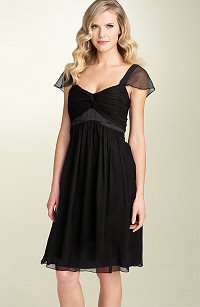 Donna Morgan Silk Chiffon Dress
$158 at Nordstrom
It's holiday time! 'Tis the season to attend great holiday parties, winter weddings, or gala fundraisers. Perhaps you have an invite that says, "Dress: Formal" or "Black Tie."
What to wear? When you think about holiday evening wear, you may, indeed, decide to go out and buy a gown. The good news however, is that today you have lots of evening wear options.
One choice is to buy a simple dress in an elegant fabric, says Leah Feldon, a Nashville and New York-based fashion expert (leahfeldon.com) and author of Does This Make Me Look Fat? "Black is perfect for a gala," she assures. "But you should wear more luxurious fabrics like velvet and silks."
Add jazzier jewelry, she emphasizes, and wear fancy, wonderful sandals. "Everything should be stepped up a bit," says Feldon.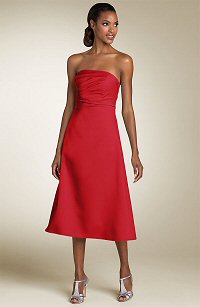 JS Boutique Strapless Ruched Satin Dress
$98 at Nordstrom
New hot colors for evening wear dresses
Jenny Le, of Opening Ceremony, which has stores in New York and Los Angeles (openingceremony.us) offers a handful of look-trendy tips to help you make a more formal fashion statement.
"I would suggest satin dresses with touches of lace trim, or pleated and ruffled dresses," she says. Another stylish option is a bold color. Le says that if you're looking to stand out and would rather steer clear of the more traditional basic black, try one of the more prominent colors today, such purple, cobalt blue, grey or yellow.
Lacrecia A. McGregor of Francesca's Collections in Chicago adds her color choices: Warm colors of smoke white, mustards, reds and emerald greens add the perfect pop of color to a formal dress, she maintains.
As for length, "Floor length is making a comeback on the black tie scene," says Stacy London of "Fashionably Late with Stacy London," which airs Fridays at 10 p.m. (ET/PT) on TLC (tlc.com/fashionably-late).
"However," she adds, "you can always wear shorter dresses to a black tie affair. There are so many gorgeous short creations that look every bit as formal as a long dress."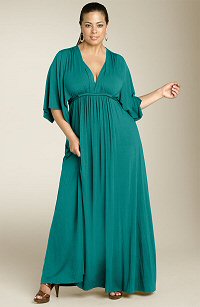 Rachel Pally White Label Long Caftan Dress
$255 at Nordstrom
Strapless vs. sleeves
Strapless dresses have, of course, been fashionable for quite a while. Still, says London, "There are amazing options in sleeves right now. Long, fan, trumpet. These are great for women who aren't crazy about their arms." However, she counsels, some sleeves are so voluminous that they can look a bit too theatrical. "Don't go so wide that you add bulk to your frame," she says. "And remember, strapless only works if the 'girls' aren't too big! Otherwise, wear a thick strap, halter or sleeve to make sure you can wear a supportive bra underneath the dress!"
As far as designers are concerned, London says she's "crazy about Zac Posen and Carolina Herrera. They both know how to cut fabric and make women of all sizes and shapes look amazing. I also love Helen Wang's dresses for the same reason. She did amazing colors for this collection."
What to throw over your shoulders when it's cool? London says she loves stoles and wraps. "There's something very old Hollywood and romantic about the look. Look for embroidered silk and Pashmina - thin embroidered cashmeres with gorgeous rich saturated color."
More great ways to look fabulous