Girls' Night In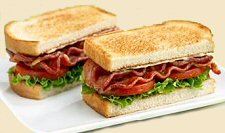 "Diner food"—The "Girls' Night In" menu, chosen to be light and humorously reflective of the '50s era, included BLTs and grilled flounder served with sautéed green beans, among other dishes. Waiters dressed in white dinner jackets with white shirts, black slacks, and black ties.
"Handbag" cakes—The biggest burst of culinary creativity, however, was saved for dessert. Because the guest of honor adored handbags, Book hired a pastry chef to create cakes designed to look like some of the handbags in the woman's personal collection.
All of the cakes were chocolate, he says. However, the pastry chef used both butter cream and fondant icings, and created details such as flowers and the classic Chanel logo by using piped royal icing, gum paste, and marzipan.
Mini-makeovers—And for fun? Book brought in three energetic hair and makeup stylists who provided the women with mini-glamour boosts while playing '50s music and promoting fun gossip. The net result, he says, is that the guest of honor and her friends thoroughly enjoyed what he calls "the sleepover atmosphere."
Girls Just Want to Have Fun
The sophisticated women who enjoyed this particular memorable and expensive 40th birthday party are used to attending many extravagant events.
However, a large budget isn't needed for a party involving a bunch of friends who simply want to have a good time. It's easy to create what Book called "a giggly girls night" on almost any party budget.
Whether the party involves a pastry chef or a pizza delivery guy simply brings some ready-to-eat party food in cardboard boxes, a "Girls' Night In" party is almost guaranteed to be successful. It provides the one luxury that most busy women hardly ever get to enjoy—the chance to relax, unwind, and just laugh with their friends.
You might also enjoy:
Progressive dinner parties for fun with friends
Delicious, easy party food on skewers
The best tiny bubbles for your celebration
Today's trendiest beverage: Beer
More how-to's for great get-togethers