Girls' 13th birthday ideas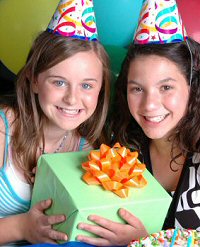 It's nice to set up a party where a young teen can have some laugh-out-loud fun with her friends--or feel grown-up on her special day. For a 13th or other teenage birthday celebration, here are some girls ideas for parties she won't soon forget.
Outdoor fun
Have your daughter and her friends wear comfortable casual clothes and sneakers (and wear bathing suits, if it's warm); take them to an amusement park for a day of rides and/or water activities.
Pretty afternoon
Go to a beauty salon where the girls can get manicures, and then treat them to a special lunch or a tea.
Grown-ups for an evening
Tell the girls to wear dress-up clothes
, rent a limo to pick them up, and let them enjoy a grown-up meal at a fancy restaurant.
Sensational sleepover
Arrange for a hotel girls' slumber party (in a room away from other people, if possible!). Hire a professional make-up artist to give them lessons, and fill up small bags with an assortment of great, affordable cosmetics
items that the girls can take home as party favors.
Follow the make-up session with a chick flick. Have lots of special, plenty-to-share popcorn
and other munchies on hand, or call room service for a night of total elegance. (Some hotels offer room-delivered pizza, which the girls might prefer.)

You might also enjoy:
More ideas on creating kids' and teen parties