Gift cards: Quick-click gift giving
Gift cards are very popular holiday gifts. They're easy to buy, make gift giving a snap, and create no clutter. Moreover, after the holidays, they don't require calls to customer support.
Actually, the last part isn't always true.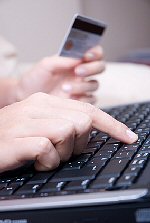 The National Retail Foundation (www.nrf.org) in its "NRF's Top 10 Tips for Buying Gift Cards," noted that some gift cards sold to consumers are outright scams—especially, the group points out, those frequently sold on auction sites.
Even cards bought from reputable merchants need to be purchased with care. Some gift cards come with unwanted features, such as expiration dates and expensive fees. In the current economy, with a number of retail companies closing stores or in jeopardy, it's especially important to read the fine print before you buy—or after you receive—a gift card.
Store vs. Bank gift cards: A Real Difference
"...[T]here are big differences between store-issued and bank-issued gift cards. While 92% of the leading retailers have no fees associated with gift cards, card issuers such as VISA and MasterCard are more likely to expire and tack on annoying activation, maintenance, inactivity, and transaction fees. ...[S]ome bank-issued gift cards even charge a fee for simply checking the balance," says the NRF.
Even when they're fee-free and carry no expiration dates, gift cards can seem too impersonal to some shoppers. If you're one of them, here are some great sources for gifts that still can save you lots of shopping time and effort, but also will show your family members and friends that you chose a gift you thought would reflect their personal tastes and interests. Click the buttons below for some quick and easy options:
Tasty treats
Giving specialty foods, drinks, or other consumable gifts are great for holiday giving. Among some obvious choices for friends who would enjoy them: a gift basket full of sweet and savory gourmet treats, fresh fruit or a bottle of wine.
Organizing help
Gifts that organize or make daily activities, travel, or special outings easier are appreciated by all. Here are some good ideas: electronic organizers, personalized calendars or postage stamps, house cleaning or organization services, and lightweight travel bags. If sharing and displaying photos and traveling interest your gift recipient, here are two sites worth visiting.
One-stop shopping:
Finally, for one-stop shopping convenience,
is a familiar site that is continuously rated at the top of "customer favorites" lists in consumer surveys of online retailers.
You might also enjoy:
More ideas for special-occasion gifts