Fundraising ideas: What Made Our Fundraiser Successful
Nine years ago, if anyone had told Ruth Geismar that on October 26, 2006, she and her husband, Keith, would be hosting the 6th annual Halloween Bash to benefit the National Foundation for Ectodermal Dysplasias (NFED), she would have been baffled.
Ruth had never heard of ectodermal dysplasias, much less, the NFED.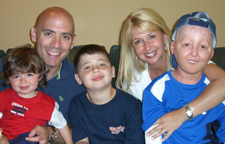 By the time the 2006 Halloween Bash kicks off, however, Ruth, Keith, and Keith's parents, Alice and Bruce Geismar, will have helped raise more than $2 million to benefit the organization.
As with most families who become involved in raising money for worthy causes, the Geismars' commitment to the NFED grew out of personal experience.
In 1998, Ruth and Keith's second son, Ryan, was born with what they soon learned was a form of one of the 150 rare genetic disorders known collectively as ectodermal dysplasias.
ED typically prevents or inhibits development or function of the teeth, hair, nails, and sweat glands. ED syndromes can also affect the skin, lens or retina of the eye, the development of fingers and toes, parts of the inner ear, and nerves.
Ryan was born with Hay Wells syndrome, an extremely rare condition characterized by extensive skin erosion. He spent his first six months in the neonatal intensive care unit of North Shore University Hospital in Manhasset, New York. Ruth practically lived there, too.
During the first terrifying days of Ryan's life, the Geismars learned about and contacted the NFED. Founder and executive director Mary Kaye Richter spoke with Ruth and Keith often. She offered information and emotional support. She put them in touch with other ED-affected families. She helped Ryan's doctors contact the few specialists who had familiarity with Hay Wells.
"If it weren't for the NFED, I don't know how we would have gotten through those terrible months," Ruth says.
When Ryan was finally well enough to go home, it was with round-the-clock nursing care. There were repeated hospitalizations. His doctors struggled to cure and help prevent the dangerous infections that kept Ryan so very ill.
Gradually, the specialists found combinations of medicines and nutritional formulas that seemed to work. Ryan started to gain weight. He became stronger. His skin began to heal. The number of infections decreased.
By the time he was two years old, Ryan Geismar had become a smiling, outgoing, and totally engaging toddler. Despite a number of serious and continuing medical problems, the future, for Ryan and his family, was finally looking brighter.
The desire to give back
It was at about this point, Ruth recalls, that she and Keith decided to turn their experiences into something positive for others. They knew they wanted to help the NFED, the previously unfamiliar organization that had given their family so much.
"At first, Keith thought about hosting a golf outing. But I couldn't really get excited about golf," she says with a laugh. "I was prepared to work hard. But I wanted to create an event that I would enjoy working on."
"I kept thinking, 'I'll do some kind of party. I know I can do that. And people might like getting involved in creating a party.'"
More ways to help wonderful causes