Fun party ideas: 5 Moms' Fun Getaway Weekend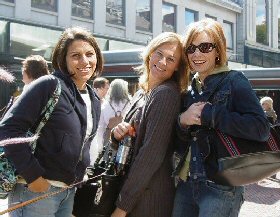 Whitney, Stacey, and Emma outside Faneuil Hall on their last morning in Boston.
Mostly spur-of-the-moment
On Saturday, the getaway moms did something else that they never do: They slept late. "We got up at about 11 and went to a cute breakfast place. It was pouring outside," Stacey continues, "so we decided to head to the Prudential Center and just roam around the shops. That's something else that we never get to do. It was just so nice to walk around aimlessly."
Lunch was New England clam chowder served in a bread bowl, at Charlie's Eating and Drinking Saloon, a casual restaurant on Newbury Street. And then the women enjoyed the ultimate luxury: back to their hotel for an afternoon nap.
Saturday night's dinner reservation was at the more upscale Grill 23 restaurant, on Berkeley Street. "We dressed up in our nicer jeans and pretty tops," says Stacey. Then it was off to the comedy club. "After that, we were really fried," she says. "We had packed a lot into that first day." So the women turned in early, eager to enjoy the time they had left on Sunday.
The next morning, the group walked back down to Newbury Street for omelets at an outdoor café. Then they headed to Fanueil Hall, the famous waterfront area shopping and food destination. "We listened to music being played outdoors and enjoyed our last couple of hours in Boston just walking around. Then we went back to the hotel; we had to leave at 3 p.m. to head for the airport."
A total success
Looking back on the weekend getaway, Stacey says, "The whole trip was just wonderful. Dancing in the club was really the highlight, and lots of laughs. We just enjoyed being able to do what we wanted, when we wanted."
Once home, the 5 moms were, of course, delighted to see their families. And they quickly settled back into their usual routines, which for a few, meant getting ready to head to the office the next morning.
Soon after their getaway weekend, however, the women started talking about where they're going on their next trip. Stacey says she'd happily return to Boston. However, New York is also a possibility. So is Atlantic City.
"There are lots of nearby cities where we could find plenty of fun places to go and things to do. We haven't agreed on the destination yet," she continues. "But there's one thing we've all agreed on: We need to do this every year."
Stacey's tips on planning the perfect moms' getaway weekend
Your choice of friends to travel with is very important. You don't want anyone who thinks of herself as a connoisseur, or someone who's demanding or difficult.
It's fun to have some plans before you go. But the joy of getting away is taking a break from the schedules involved in having young kids. Plan to be flexible, to wake up and not necessarily know what you're going to do that day.
A lot of women aren't comfortable leaving the kids with their husbands. They worry that the husbands are unfamiliar with their children's day-to-day routines and needs. Don't worry. The kids will be safe and happy. And it's good for the dads, too.
I have friends who would never even get a babysitter. I think that's a big mistake. There has to be some balance, especially for stay-at-home mothers. Think of a getaway with other women as a couple of wonderful days that actually will make you a better mom.
You might also enjoy:
More how-to's for great get-togethers