Fun party ideas: 5 Moms' Fun Getaway Weekend
Destination celebrations are all the rage, right now. That's especially true for bachelorette parties. But all the fun isn't being had by brides-to-be and their friends.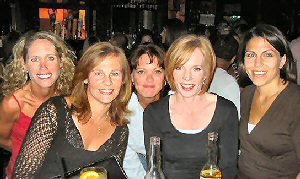 Moms getting away for a fun weekend are, from left to right: Denise, Stacey, Leah, Emma, and Whitney.
Stacey Frank, of Medford, New Jersey, recently planned a fabulous "me-time" getaway for herself and 4 other moms. The women flew from Philadelphia to Boston. There, they had two glorious, no-responsibilities, fun, relaxing, and laugh-filled days.
The "relaxing" part was something they weren't used to. Between them, these moms have 9 kids under the age of 5.
The decision to leave the kids with their fathers for a couple of days wasn't easy. For most of the women, this trip was going to be the first time they were away from their kids. But in the end, they realized they truly needed a break and that the kids—and the dads—would survive. "My husband travels all the time. I just decided 'This is my time,'" says Stacey, recalling how she made the decision to go with the other women.
"Whatever You Want"
Boston was the getaway destination choice. The reason was simple: Stacey had lived there for eight years. She knew where to go, what to do, and what would be fun.
The other moms were thrilled to let someone else take care of the planning. "They basically said, 'You decide where we're going. We'll follow you anywhere,'" she says, laughing.
The only concrete plans were made two months in advance. Stacey booked the flights, reserved the hotel and made a reservation at a restaurant for Saturday night. She also got tickets for a comedy club near the restaurant. Everything else was to be decided spontaneously.
When getaway Friday evening arrived, the women splurged on a limousine to take them to the airport. The arrived in Boston, unpacked their bags, and walked to the Cactus Club, a Mexican restaurant on trendy Newbury Street.
A Night of Singing and Dancing
After dinner, they walked to the popular Jake Ivory's, on Lansdowne Street, which Stacey describes as a "dueling piano bar." They enjoyed the crowd and got into the sing-a-long for a while. Then it was on to more fun.
Their next stop: a club near Fenway Park. As it turned out, they were there on a fabulous night—the night the Red Sox clinched the American League championship. "It was wild," Stacey recalls. "People were dancing in the streets and having a great time."
The women made their way downstairs to a crowded dance club. Many of the people there were college students. But like everyone else at the club, the moms started dancing—with no one in particular.
"We're all really conservative people. And we're all about 35 years old. So this was so totally out of character," she says. "That's why it was such fun. We just stuck together and danced, and we didn't get back to our hotel until almost 2:30 a.m."
More how-to's for great get-togethers