Fun gifts for your pet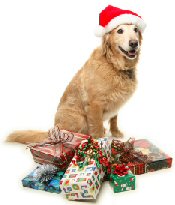 If you're like most people, you love shopping for and finding great gifts for your pet.
According to a recent survey by Pet Supplies "Plus," the nation's third largest pet store chain, the average pet will find 6.7 presents tucked under the tree this year.
A key reason that pets get so many gifts is simply that people enjoy shopping for them. More than nine out of ten survey respondents (93%) said it's more fun to shop for their pets than their human relatives.
Here are the cute, interesting, and "shamelessly unscientific" poll results released by the pet retailer:
Pets
Humans
Is it more fun to shop for your pets
or human relatives?
93%
7%
Is it easier to find the right gifts
for pets or humans?
95%
5%
Do you spend more on your pets or
human relatives?
26%
74%
Do you include your pets in your
holiday cards?
78%
yes
22%
no
And here are some great gift ideas for your favorite Fluffy or Fido:
Feather Top Carrot Catnip Toy Cat Tree Condo Crazy Circle Interactive Cat Toy
Extreme Goodie Bone Petmate 25-Inch Burrow Bed Twist and Treat

More ideas for special-occasion gifts