Fun boys' and girls' party activity: Cupcake decorating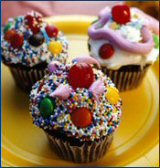 Young children love doing things on their own. Maybe even more so if their efforts involve handling sweets. Here's a fun boys' and girls' party activity that combines the two.
Decorating is an easy and inexpensive way to get the kids excited (and keep them seated) when it's time to have dessert. Before eating, they will love being little cake designers as they create their very own cupcake designs.
The how-to's are simple: Frost home-baked cupcakes in vanilla and chocolate, or if you prefer, blue and pink to appeal to both little boys and girls.
Display the cupcakes beautifully on a 3-tiered serving tray or cupcake tower, such as one of those shown below. You can find great cupcake towers in many different colors and themes on Amazon.com.
For decorating, set out tubes of colored icing and bowls of several different toppings at the table. Among the many possibilities: M&Ms, candy corn, jelly beans, containers of colored sugar, multi-colored sprinkles, miniature nonpareils, and even breakfast cereal.
Here are some cupcake towers for different party themes:
Princess cupcake stand Disney fairies cupcake stand Sports cupcake stand
You might also enjoy:

Birthday cakes for active birthday kids
Top Kids' Birthday Party Q & A
Tea party for little girls
Petting zoo birthday party
Martial arts birthday party
More ideas on creating kids' and teen parties