Fruit and cheese party platters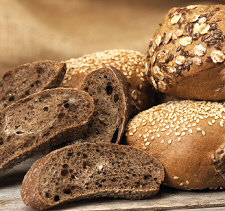 BEST CRACKER AND BREAD CHOICES FOR THE MOST POPULAR CHEESES
Make a simple cheese platter extra-sophisticated by choosing beautiful breads and crackers.Here are some great pairings:

Water Crackers:
Water crackers, the thin, dry, crispy-textured crackers, are also called table crackers or a water biscuits. They're great for all types of cheeses, which makes them a must for any cheese platter.

Crisp Bread:
For stronger flavored cheeses blue and Gorgonzola, try bran crisp bread.

Pita, Bagel Chips, and Breadsticks:
These make for a sturdier base and are perfect for any flavorful cheese spread.

Lahvosh:
A Middle Eastern cracker, also known as Armenian cracker bread, will allow guests to capture a great taste of cheeses with stronger flavors, such as aged cheddar or a flavored feta.

Flat Bread:
Flat bread is the best match for Parmesan or provolone. For Italian-style platters or as an easy appetizer, top bread with provolone, sliced tomato, and a touch of basil.
Crostini:
Pair these baked thin slices of toasted French or Italian bread with Italian cheeses such as Fortina or Asaigo. To create an instant appetizer, top bread and cheese with a sun-dried tomato and a dash of balsamic vinegar!
Here are some items you may want to consider:
Bread Slicer with Crumb Catcher Bread and Oil Maple Plank Bread Basket with Warmer
More delicious food for parties