Fruit and cheese party platters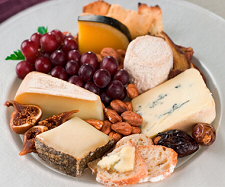 It probably seems odd to think of fruit and cheese party platters as trendy. However, they are!
"Thanks to our collective return to entertaining at home, the fact is, cheese has generated lots of interest lately," notes Michael Collins, marketing director for the Cheese of France Marketing council, in Portland, Maine.
Party hosts today are more savvy and "willing to experiment with different cheeses," he comments.
"Even with the poor economy," Collins says, "sales of our more expensive products are growing the fastest."
So for stylish entertaining, don't hesitate to put out a sophisticated cheese platter; it can be the center of a lovely party food spread.
Here, based on guidelines from the Wisconsin Milk Marketing Board, is a complete guide to presenting an elegant and delicious party assortment.
TRIED-AND-TRUE CHEESE combinations
These cheese platter themes represent the most popular types of groupings today.
The Traditional Platter:
Medium brick cheese
Swiss
Cheddar
Flavored Monterey Jack
Colby
The International Platter:
Blue (France)
Gouda (Netherlands)
Parmesan (Italy)
Flavored Havarti (Denmark)
Colby (USA)
Italian Platter:
Pepato
Fontina
Provolone
Gorgonzola
Fresh mozzarella
Here are some items you may way to consider:
More delicious food for parties