From casual party to successful annual fundraising event
A party-with-a-purpose is a great—and increasingly popular—way to get friends and family together for a fun time to support a good cause. Here's a clever idea that you can use to have fun with your friends while helping any cause that's dear to your heart.
Lois Riccobono (below), of East Islip, NY, is a board member of the Education & Assistance Corporation (EAC), a not-for profit organization that provides financial, educational, and child support services, among others, to more then 45,000 Long Island adults and kids, each year.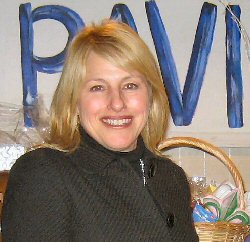 The idea for a party came just after the Christmas holidays, in early 2006. Lois, who serves as vice president of R.B. Lewis and Associates, an insurance agency, realized that she had gifts left over from the holidays that she didn't need and couldn't return. It occurred to her that friends and neighbors did, too.
Then Lois thought about the EAC. Much of the money raised at the EAC Annual Spring Luncheon comes from raffles and a silent auction of donated items and gifts from local businesses.
Instant Success
Lois decided to host a re-gifting party. She invited about 25 guests to her home and asked them to bring their leftover or unwanted gift items.
On the night of the party, guests shared laughs while enjoying flavored martinis and cocktails along with hors d'oeuvres that included cheese and vegetable platters, tomato bruschetta, mini-quiches, shrimp cocktail, and tomato and asparagus on focaccia bread. Lois provided some of the food; guests brought some, as well.
Among the items collected that evening: scented candles, velour bathrobes, hand-painted bird feeders, and DVD players. EAC volunteers later grouped related items and made beautifully wrapped theme gift baskets which were eventually auctioned off at the luncheon.
Let's Do It Again
Apparently, word of Lois' party-with-a-purpose spread. The following year, she received requests to have another party—from the first year's attendees and from people who had heard about the good time for a good cause.
It soon became obvious to Lois that the party had outgrown her home. Lois mentioned her predicament to her hair stylist. Soon thereafter, Harvey Allen, owner of the beauty parlor that bears his name, offered the use of his salon for the re-gifting party.
Other community businesses also pitched in. The Bayberry Café and Gino's Tuscany Restaurant, both located in Islip, provided hors d'oeuvres that included calamari, Swedish meatballs, and shrimp. Vineyard 48, a winery in Cutchogue, donated bottles of red and white wine. Over 40 people attended the second successful re-gifting party.
Even Bigger and better
The buzz grew again. This year, with the help--and use--of the newly re-opened Islip Pavilion (a renovated theater which Lois also helps to support), the third re-gifting party took place in January.
Refreshments included not only hors d'oeuvres, but also dinner. Fred Shepard, of the DC9 Painter's Union, brought cheese platters, shrimp cocktail, and dishes that included chicken, shrimp, scallops, mussels, and potatoes. Norm Vincent, a local musician, played guitar and sang throughout the evening. More than 80 attendees had a great time.
Guests and local businesses were generous again, too. They donated everything from personal gifts to restaurant gift certificates, electric guitars, leather jackets from Italy, and a year of hair salon services.
Within only a couple of years, Lois' spur-of-the moment party has become the fun foundation of the EAC's donations drive.
The results of this year's party-with-a-purpose will soon be on display. The EAC's 8th Annual Spring Luncheon will be held on April 2, 2008 at the Crest Hollow Country Club in Woodbury, NY.
For more information, visit http://www.eacinc.org/index.htm.
More ways to help wonderful causes