Food for parties: Asian-inspired recipes
To celebrate the Lunar New Year, we thought it would be fun to include recipes based on several main ingredients, and to expand the cooking focus to dishes that reflect not only Chinese, but different Asian-based themes—all of which are extremely popular right now.
Choose one or more of these dishes, which feature shrimp, pork, chicken, beef, and vegetables. Pair your colorful and healthy entrees with delicious fried rice for a sensational party food combination.
Then, get yourself in the party planning mood by checking out the two videos on quick and easy Asian cooking techniques that we think you'll enjoy.
The first video shows how easy it is to prepare a traditional stir fry of Chinese beef and peppers with black beans. The second features a demonstration on how to prepare basil chicken fried rice--a Thai staple. Complete your Lunar New Year party planning by ordering some pretty Asian-themed table décor.
The following recipes are easy to prepare; each dish is delicious enough to serve any party guests not only during the Chinese New Year celebration, but also at any party throughout the year.
Image credit: Kota Kinabalu Hotels blog
FRESH SHRIMP SPRING ROLLS WITH THAI DIPPING SAUCE
Makes 8 appetizer servings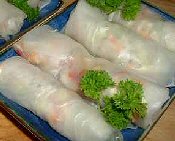 8 spring roll wrappers (available in Asian markets and many supermarkets)
16 medium shrimp, cooked and shelled
1 1/3 cup shredded leaf lettuce
1/3 cup chopped cilantro
3/4 cup peeled, seeded, chopped cucumber
1 medium carrot, julienned
In a bowl of warm water, soak one wrapper several seconds, until soft. Lay the wrapper out flat.
Layer 1/8 of each ingredient down middle of wrapper, starting with lettuce. Fold over each end and tightly roll the wrapper around the contents, as if making a burrito. Moisten at seam; press to close.
Lay on plate, cover with moist paper towel and repeat the process with each roll.
Cover spring rolls with plastic wrap and refrigerate until ready to serve. Slice each in two and serve with Quick Thai Dipping Sauce (recipe follows).
Quick Thai Dipping Sauce
Mix together:
1 1/2 Tbs. light soy sauce
1 1/2 Tbs. white-wine vinegar or rice vinegar
1/3 cup. mirin (Japanese sweet cooking wine)
1/3 tsp. grated fresh gingerroot (optional)
Note: Another popular dipping sauce choice is hoisin sauce with or without chopped peanuts.
Adapted from recipe by USA Weekend columnist and leading authority on health and nutrition Jean Carper (jeancarper.com). Photo: Bergy, forum admin, recipezaar.com.
More delicious food for parties