Flower ideas: Top floral design trend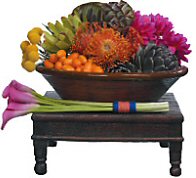 Photo courtesy of California Cut
Flower Commission
Here's a floral trend that is a perfect choice to turn up the "Wow" factor for any warm-weather gathering. The American Floral Trends Forecast featured a style called "the Nomad," which features a vibrant collection of colors.
The Nomad look is influenced by the bright colors of tribal handcrafts from all over the world—especially rich fuschias, deep blues, golden oranges, and earthy red-browns. The trendy floral look also makes use of sustainable materials and handcrafted items.
While the colors are strong and rich, today's hottest floral designs can be just as intricate as the handcrafts that inspired them.
Here, from the California Cut Flower Commission are some of the flowers and exotic elements that you can use to create the fabulous warm-weather "Nomad" floral design look at any special gathering—at a party venue or in your own home:
Flowers

Other elements to use

Gerbera daisy
Iris
Rose
Asiatic Lily
Parrot Tulip
Dahlia
Miniature calla
Sunflower
Anthuriums
Gladiolus
Delphinium
Artichoke
Kangaroo Paw
Exotic fruits
Handcrafted items
Beading & woven textiles
Geometric patterns
Pottery
More pretty ideas for gorgeous parties