Flower Girls Dresses: Kid-Friendly Couture
By Jessica Koslow
Most brides envision their young flower girls sprinkling beautiful rose petals on the white runner as they drift down the aisle wearing tiny gowns that flow to the floor. Many retailers, however, think that putting floor-length dresses on little ones represents a singularly bad idea.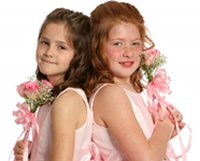 "I will give them a dress down to floor if they specifically ask, but I don't recommend it," states Marg Hyland, president of Pegeen, a flower girl and ring bearer outfit manufacturer in Orlando, Florida.
The Right Length
"I advise, "No," 99% of the time that floor-length dresses are suggested. It looks like the girls are playing dress up, or that they borrowed their dresses. More important, I'm concerned about child safety."
Cathy Drahosh, co-owner of Drahosh Creations in Waconia, Minnestota agrees, especially for very young flower girls. "It's easy for young kids to trip. They're inexperienced or not careful walking. They also run around. Even though the brides love dresses to the floor, I suggest tea-length dresses."
Pretty in Pictures
The Calabasas, California company, flowergirldress4less.com, summarizes many retailers' opinions: "A younger girl can wear a knee-length 'princess' style dress, while an older girl might prefer a more sophisticated silhouette, with more length."
Besides safety, there's another consideration: The child must be standing perfectly straight in order for a floor-length gown not to buckle in front. Such posture can add awkwardness to the otherwise relaxed look of the rest of the wedding party.
More ideas for the parties surrounding weddings