Floral decor trend: Elegant floral arrangement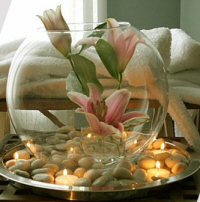 Photo courtesy of Flower Promotion Organization
Whether you're hosting a spa party, an elegant shower, or a cocktail or dinner party, here's a floral decoration theme that will surely put your guests at ease. The current American Floral Trends Forecast TM includes a style called "Whisper," which utilizes a sophisticated and natural-tinged color palette.
According to the California Cut Flower Commission, "Whisper"-styled arrangements produce a peaceful and calming atmosphere with their neutral and earth tones. The color collection features gray, blue, brown, charcoal, cream, beige, coral, and shimmery copper. Natural and textured elements are also incorporated into floral presentations.
To create serene designs along the line of the "Whisper" trend, flowers are stylized rather than arranged. The focus is on simplicity and an absence of clutter.
Some examples of the "Whisper" style beautifully executed are:
Flowers floating in shallow vases,
Flowers or petals in tall glass vases, and
Flowers arranged at different heights or pointed in different directions.
Here, from the Commission, are some of the flowers and calming elements that you can use to create the fabulous warm-weather Whisper-inspired floral design look at any special gathering—at a party venue or in your own home: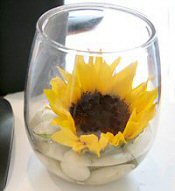 Flowers


Rose
LA Hybrid Lily
Protea
Peony
Anthurium
Leucadendron
Dahlia
Ornithogalum
Stephanotis
Stock
Gardenia
Phlox
Brunia
Verbascum
Festival bush

Other elements used


Seashells
Sand
Sculptural-looking wood, such as driftwood
Stones and pebbles
Textured fabrics
More pretty ideas for gorgeous parties