Comfort food party dishes
FESTIVE SIDES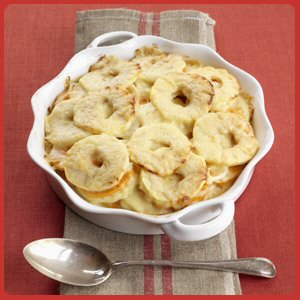 Sweet potato and apple gratin
Makes 8 servings
4 lbs. sweet potatoes, peeled and sliced in 1/4-inch thick rounds
1 onion, thinly sliced into rings
4 apples* peeled, cored and sliced in 1/4-inch thick rounds
1 cup milk
1 Tbs. all-purpose flour
1/2 tsp. dry mustard
1/2 tsp. each salt and pepper
1 cup shredded Gruyère cheese
Directions:
Preheat oven to 400°F. Arrange half of the sliced sweet potatoes over the bottom of an 8-inch round (2 L) baking dish. Arrange half of the sliced onion rings over the sweet potatoes and half of the sliced apples over the onion. Repeat these layers with remaining ingredients.
In medium bowl, whisk together milk, flour, mustard, salt and pepper. Drizzle over apples. Sprinkle with cheese.
Cover with foil and bake in preheated oven for 45 minutes. Remove foil and bake until cheese is bubbly and golden and potatoes and apples are tender, approximately 15 minutes. Let stand 10 minutes before serving.
*Note: For best results, use Empire, Golden Delicious, Spartan, Cortland or Northern Spy apples.
Recipe adapted from and photo by The Ontario Apple Growers
Sherry-braised squash with figs and rosemary
Makes about 4 cups (6 servings)
1 butternut or other winter squash (2 3/4 to 3 pounds)
1 Tbs. butter
1 cup chopped yellow onion
1 cup Blue Ribbon Orchard Choice or Sun-Maid Mission or Calimyrna figs, stemmed and halved or quartered
1/2 cup dry sherry or orange juice
1/2 cup chicken broth
4 tsp. chopped fresh rosemary (or 1 1/2 tsp. crumbled dry
rosemary)
1/4 tsp. salt
Chopped fresh parsley
Directions:
Peel squash and cut into 3/4- to 1-inch chunks to measure 4 cups.
Heat butter in large skillet or saucepan with tight-fitting lid over medium heat. Add onion. Cook, stirring frequently, until onion is golden.
Add squash, figs, sherry, broth, rosemary and salt. Cover, bring to a boil, then reduce heat and simmer gently for 10 minutes or until squash is tender. If liquid remains, remove figs and vegetables with slotted spoon to serving bowl; simmer uncovered until liquid is reduced to 3 to 4 tablespoons.
Pour liquid over squash mixture. Serve warm, garnished with parsley.
Recipe adapted from and photo by Valley Fig Growers
Braised spinach with currants and pine nuts
Makes 6 servings
3 Tbs. dried currants
2 Tbs. red wine vinegar
3 Tbs. pine nuts
2 lbs. spinach, stems removed, halved lengthwise, and cut crosswise into 2-inch-wide strips
3 Tbs. extra-virgin olive oil
4 garlic cloves, thinly sliced
1 tsp. salt
1/2 tsp. freshly ground black pepper
Directions:
Combine the currants and vinegar in small bowl. Let stand 30 minutes. To toast the pine nuts, preheat the oven to 350º.
Arrange the nuts in a single layer on a baking sheet. Place in the oven to bake just until light golden and fragrant, about 3 minutes. Remove from the oven and set aside to cool.
Heat the oil in large skillet over medium-high heat. Add the garlic and sauté, stirring constantly, just until fragrant, about 1 minute.
Add the greens in 3 batches, tossing each batch with tongs until wilted before adding the next.
Stir in currants and any remaining liquid, salt and pepper and cook, covered, over moderately low heat until spinach is tender, about 3 minutes.
Remove the lid and cook over moderately high heat until most liquid is evaporated, about 2 minutes more.
Stir in the pine nuts and serve immediately.
Recipe adapted from Sheri Castle of Creative Cooking with Sheri Castle featured on Carrboro Farmers' Market
More delicious food for parties