Comfort food party dishes
Fill your home with the warm, delicious aroma of well-seasoned comfort food favorites that will please guests the second they walk in the door!
Let the meat dishes cook slowly all day while you prepare fabulous party-perfect side dishes that bake during the final hour or so of cooking.
What could be a simpler and more satisfying way to entertain!
MAIN DISHES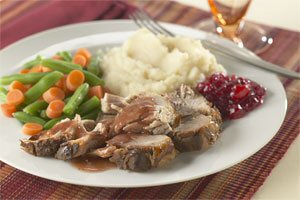 Slow-cooked spiced-cranberry pork roast
Makes 6 to 8 servings
3-1/2 to 4 lbs. boneless pork shoulder roast (butt)
1 6-oz. can jellied cranberry sauce
2/3 cup sugar
3/4 cup cranberry juice
2 Tbs. Dijon-style mustard
1-1/2 tsp. ground cloves
1 tsp. ground black pepper
Salt, to taste
Directions:
Trim fat from pork roast, if necessary. Place roast in 4- to 6-quart slow cooker.
Use wire whisk to stir together cranberry sauce and sugar in medium bowl.
Stir in juice, mustard, cloves and pepper until well combined. Pour cranberry mixture over roast in slow cooker.
Cover slow cooker and cook on low for 6 to 8 hours or until pork roast is tender.
Season roast to taste with salt; serve juices with roast.
Recipe adapted from and photo by the National Pork Board.
Slow-cooked lemon chicken
Makes 6 to 8 servings
1 apple - peeled, cored and quartered
1 stalk celery with leaves, chopped
1 (3 to 4 lbs.) whole chicken
salt to taste
ground black pepper to taste
1 onion, chopped
1/2 tsp. dried rosemary, crushed
1 lemon, zested and juiced
1 cup hot water
Directions:
Rub salt and pepper into the skin of the chicken, and then place apple and celery inside the chicken.
Place chicken in slow cooker. Sprinkle chopped onion, rosemary, and lemon juice and zest over chicken.
Pour 1 cup hot water into the slow cooker.
Cover, and cook on High for 1 hour. Switch to Low, and cook for 6 to 8 hours, basting several times.
Image credit: Pilgrim's Pride
Classic slow-cooker pot roast
Makes 8 to 10 servings
Ingredients
2 cans (10.75 oz) of condensed cream of mushroom soup
1 package (1 oz) dry onion soup mix
1-1/4 cups water
1 Tbs. cooking oil
5 lbs. beef pot roast (such as chuck roast)
Directions:
Heat oil in a skillet over medium heat, brown roast on all sides and pour off drippings.
In a slow cooker, mix remaining ingredient and add beef. Cook on low setting for 8-9 hours.
Add potatoes and carrots for a complete meal.
Recipe adapted from the Missouri Beef Industry Council
Click here for slow cooking tips and advice from the Missouri Beef Industry Council.
More delicious food for parties