Featured blog: LotusHausTM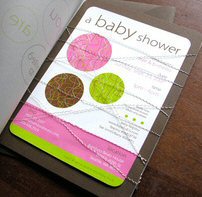 According to the description on her blog, LotusHaus,TM Joanna "Jojo" Dyckhoff is the "owner of a Seattle-based boutique design studio that specializes in the design and marketing of Organic & Sustainable apparel + home products and services."
We discovered Jojo's work while researching creative ideas for baby showers.
Jojo's October 3, 2007 blog entry showed pictures of everything she had done (in her own home) for an amazing co-ed baby shower that she created for an expectant couple. Here's what she wrote:
"I recently hosted a fun co-ed baby shower. It was a baby girl shower with a very modern theme. I designed & created the shower invitations [above], party favors, floral arrangements and party decor. The shower and all of the design details really turned out great! The colors were chocolate, raspberry and lime green with touches of silver."
Jojo goes on to describe how she accomplished the beautiful and cohesive baby shower design. These are just two of the images from her post, along with her description of these images: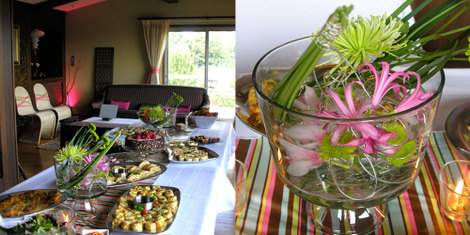 "This is my dining room that opens up to the living room. I have two tables and four benches that make up a long buffet and very versatile seating. We had lots of great finger food. Trader Joe's is the perfect place to pick up easy to prepare appetizers like dumplings, quiche, coconut breaded shrimp and spanakopita. My girlfriend saved the day by helping me prepare these bites while I worked on the floral arrangements. The two table arrangements featured curled up wire, floating flowers, orchids and wire wrapped grasses. I also used spotlights to add shots of pink color to the dark corners."
We're happy to highlight the design work of Joanna Dyckhoff in our first "Featured Celebration Blog." We think her work demonstrates the style we all seek to bring to our celebrations. Not only does Jojo create sophisticated designs for her clients, but she also succeeds in creating gorgeous celebrations for her own family and friends.
More expert advice and party planning tips