Fashion trends influencing party wear in 2009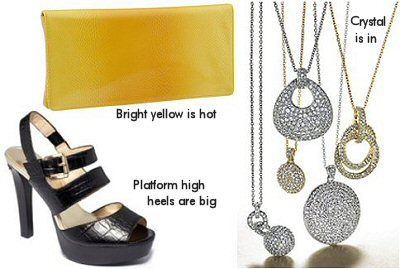 We just came across an article by Robert Janjigian, fashion editor of the Palm Beach Daily News, that caught our attention. We thought you'd find it interesting, too!
Janjigian, who's always looking for what's new and upcoming, recently interviewed Jeanine Recckio, a professional "futurologist" who advises clients in the beauty, fashion and lifestyle industries about the trends that are coming. Her Mirror Mirror company is located both in Palm Beach and New York.
Fashion trends will, of course, influence what we all decide to wear to the casual and dress-up parties we'll be attending.
So here, excerpted from the article, are some of the fashion trends Recckio is predicting for 2009:
"* Accessories, inexpensive jewelry, handbags, etc., are more important than clothes. Recckio calls these items "disposable fashion."
* Happy colors, such as yellow, are a must.
* Even inexpensive pieces will have to carry "fashion emotion" in order to succeed. Say no to dowdy duds.
* Crystals that are clear and bright and are said to have a certain energy will increase in popularity.
* High heels, which make women feel empowered, will continue to reign." (Higher in the front will be popular, too. Recckio notes that a platform toe box also provides more stability.)
For more information about the trendy accessories shown above:
You might also enjoy:
Comments
To comment, please Login or Join
More great ways to look fabulous