Family Reunion ideas: What To Do Now For Next Year's Event
Formal reunions are an increasingly popular way for several generations of family members and relatives who live all over the country to stay connected. However, sometimes just thinking about all the details involved can make planning a reunion seem like more hassle than its worth.
Typical large-scale reunions, which can include from 100 to 200 people, do take about one year to plan. Professional reunion planners can ease that burden by offering an array of services, from simple telephone consultation to planning every aspect of the event.

Where and when
The first things to consider are where and when, both of which should be decided by offering up several possible choices. The "when" part may be dictated by school vacations, seasonal weather, or by a milestone family celebration, such as Grandma's 80th Birthday.
As far as the "where" is concerned, reunions can be as intimate as a backyard picnic attended by a few dozen families, to a multi-day extravaganza. Depending on the size and scope of your reunion, you may choose to host it in a public park, or at a large hotel, with some activities taking place at a nearby theme park. (See "Popular Family Reunion Locations" in the box below.)
Check out what's available in the area your reunion will take place. At the 1988 Family Reunion organized by Carole Neal, a genealogy and reunion planning advisor in San Francisco, Neal's family rented a company park in San Jose that included a covered picnic area, baseball field, volleyball court and horseshoe pitching area. The one-day event took place the day after an aunt and uncle renewed their vows on their 50th wedding anniversary.
How much
Budget obviously will determine the feasibility of some of the choices. Reunion-only costs can vary from as little as $10 per person to as much as $100 or more per person. For smaller affairs, the per-person fee might cover the food or the venue, while for larger reunions it might be used to offset such expenses as postage, a videographer or photographer's fee, venue rental, catered meals, activities, token keepsakes, and the services of a reunion planner (figure about $100 per hour or a flat rate of $10 per person, depending on the extent to which you want your planner to get involved).
Regardless of where you choose to have the reunion, you-or a professional planner-may be able to book hotel rooms at a discounted price. Most likely, guests will be responsible for actually making their own reservations. Typically, attendees pay for their own lodging, transportation, meals, and activities not specifically included in the reunion gathering.
The budget will also depend on how many people will be attending, what activities you plan, and any keepsakes-such as T-shirts, hats, or photos-that you choose to give to participants.
Neal says it's best to request a per-person, rather than a per-family fee to cover actual reunion costs. You also might want to consider charging more for adults and less for children and seniors. She adds that while a reunion planner can make many of the arrangements, its best to designate one family member as treasurer.
After you've pinned down when and where your reunion will be held, and roughly what costs will be involved, it's time to start thinking about the specifics.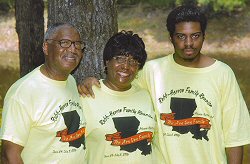 Laura Rabb Morgan is an event planner and owner of Morgan Planning in Chicago. She's the person who put together the Rabb-Herron reunion held in Louisiana in July 2006, shown above. (Morgan says that the various family reunion T-shirt colors worn by her relatives represent the branches of the family descended from her paternal grandparents' six children.)
Morgan, shown at the right with her husband, James, and her son, James, Jr. says it's important to establish a timeline. "Most families don't develop timelines and don't do anything until the last few months. Getting a reunion planner to help craft the timeline will help take some of the pressure off."
Next, you've got to find your relatives and get the word out. Morgan says she's often asked to help find long-lost relatives, create the address list, and handle the mailings. "We can search all over the United States for relatives."
Once the date is set, Neal tells her clients to mail a "Save the Date" card, explaining that more details will follow, including when money is due. Morgan helps her clients create these and other forms of communication to keep people apprised of event updates, and to maintain interest.
For example, when she planned her own family's reunion, says Morgan, "I mailed an 'update' every other month. Each update included a tidbit about our family history. The last communication was a countdown to the big weekend. It included the weather forecast, rules of the road for where the reunion was being held, and other 'good to know' information like how to dress and what to bring."
Get Everyone Involved
Popular Family Reunion Locations
Some families choose to hold their reunions in large cities, enabling relatives to spend a bit of free time visiting museums or doing some touring on their own, often during school or summer vacations.
Any Convention and Visitors Bureau representatives will be delighted to provide information about hotels, local attractionsÑand, of course, the advantages of choosing their city for your festivities.
National Parks
For families that prefer nature-focused outdoor activities, you might want to consider one of the nation's gorgeous National Parks.
The National Park Service Web site will help you find parks anywhere in the country. You can search by name, location, activities, planned special exhibits, themes, or attractions. For complete information, visit www.nps.gov.
Theme Parks
Theme parks provide yet another reunion possibility. Family members can go their separate ways to see various attractions or enjoy rides that not everyone might want to try. DisneyWorld and Disneyland are obvious possibilities. A few multi-location options: Sea World, Busch Gardens, and Six Flags.
For a state-by-state listing of theme parks, amusement parks, water parks, and zoos in the U.S., plus links to their Web sites, go to themeparkcity.com.
One of the most important aspects of a planning a family reunion is to keep the young people involved from the beginning, says Morgan.
"You want the kids to learn more about their family," says Morgan, "and to continue the tradition after you're gone." To keep them interested, she suggests sending kids age 18 and over their own personal invitations, and possibly getting them involved in the planning.
Many reunions feature a welcome gathering, she notes. It may be an all-day picnic with a play area for the children, and fun activities like a talent or fashion show. At Morgan's reunion, they had a family track meet, and gave trophies to winners in each age group-including people as old as 90! Sack races, egg tosses, and obstacle courses are fun ways for people to be active and to keep that youthful spirit alive, she says.
Neal agrees that it's important to involve the kids. To help the children get to know their family history, Neal says that a 1997 reunion in Homer, Louisiana, included a candle-lighting ceremony right before the Friday night banquet at a nearby restaurant.
The ceremony was designed as a way for all to remember deceased family members. Family history exhibits on display during the reunion's welcome reception included World War I draft cards, and copies of ancestors' marriage licenses. "They were great icebreakers and conversation starters, especially for family members meeting for the first time," she says.
Ensuring Memories
Important times like these deserve professional documentation, Morgan maintains. That's why she suggests planning to hire a professional photographer or videographer. Reunion planners also suggest considering keepsakes such as specially designed family reunion T-shirts or hats.
Another good idea: Start to solicit recipes for a family recipe collection book, or create a family newsletter to build anticipation of the reunion-and to help keep the memories alive and the family relationships strong, after the event is over.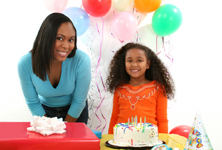 You might also enjoy:
More how-to's for great get-togethers