Fall flower arrangements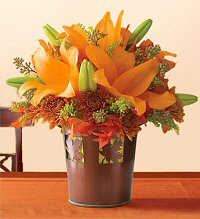 Autumn accents bouquet
Many arrangements and prices
Available at 1800-FLOWERS
Are you someone who—like us—views the start of the school year as a bit like the start of the New Year?
There's something about "Back to School" that says "New Beginnings" for everyone. So why not celebrate the energy of Fall by having a just-for-fun gathering of good friends, and enjoying the burst of inspiration and motivation that September brings.
Keep it easy: Have a casual potluck, host an easy backyard barbecue or serve no-cook party food on skewers while the weather is still warm enough to enjoy the outdoors, in many areas of the country. But also treat your guests—and yourself—to an atmosphere of pure joy.
Best-selling author Jayme Barrett, (Feng Shui for Life, $16.47) points to university research studies linking flowers to emotions, such as happiness and creativity.Bright colors can be a big part of creating an energetic party atmosphere. So choose an easy menu and add vivid colors, such as the energizing shades that Barrett recommends.
A great example of perfect party flowers: In the photo above, "a pail of gorgeous flowers packed with fresh Autumn color and send this bouquet of lilies, poms, solidago and more, accented with Fall leaves and arranged in a stylish tin pail with maple leaf cutouts. It's a festive tabletop surprise perfect for any seasonal celebration."
More pretty ideas for gorgeous parties