Expert tips for preparing holiday dinners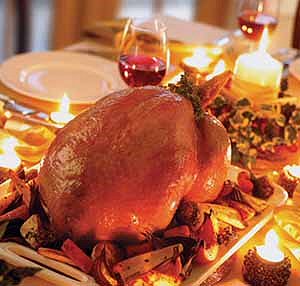 Fabulous Turkey Dinner: Planning is key

Planning ahead is the best way to eliminate much of the hassle of preparing dinner for a large group.
If possible, get a handle on what you're going to cook, and what you'll need, at least several days before the holiday. Then use our handy party shopping list, to shop for everything you'll need.
Here are a few helpful start-to-finish tips adapted from Butterball.
Note: Beneath the tips is a great video on the easiest way to carve a turkey.
Read each recipe: At least one or two days before your special dinner, read the instructions for each item you plan to make. That way, you won't find out at the last minute that something should have been refrigerated overnight.
Prepare what can be assembled at the last minute: Side dishes that don't need to be cooked, such as salads, can be prepared ahead and refrigerated until your meal is served. Add the dressing immediately before you sit down, so the salad doesn't get soggy.
Do what you can in advance--e.g., measuring, chopping, peeling, etc. Keep everything fresh, clean, and stored properly until you need each ingredient. (Also see "Make and Freeze Meals for Parties.")
How to keep the turkey moist

: Turkeys should be moist on the inside, not the outside. When you are working with turkey it is important that it is thoroughly dry on the outside before you begin to add seasonings. Follow these simple steps adapted from the Culinary Institute of America:
Use a paper towel to pat the roast dry, as this will help to ensure a crisp, golden brown crust.
Once dry, rub vegetable oil over the outside of the bird, and then following with dry herbs or seasonings.
Place some seasoning inside the cavity as well, and feel free to add herbs and aromatic vegetables such as parsley stems for additional flavor.
Cook by the clock: Prepare side dishes according to the amount of time they'll take to cook; start with those that take longest.
Keep the turkey hot: If you need time once the turkey is finished cooking, here's a great way to keep it hot for at least an hour:
Completely cover the turkey in aluminum foil. Line a cooler with newspapers and place the pan with the turkey in the cooler.
Place a few dish towels over foil-wrapped turkey and close lid.
Your turkey will stay nice and hot until you are ready to carve. Be sure to carve and store leftovers within 2 hours.
Photo credit: Reserve123.com
How to carve a turkey
Here, from Cooking.com, is the best video we've seen on how to carve a turkey. Famous California restaurateur Gordon Drysdale demonstrates not only the traditional way to carve turkey breast, but also the method we prefer--removing the entire breast in one piece and slicing the turkey into uniform slices.
More delicious food for parties