Elegant Eggs: Fantastic Easter Brunch Recipes
Who doesn't think of eggs for Easter? We love making colorful Easter eggs as the basis of fun activities with the kids, and as beautiful decorations. But eggs also can be the main ingredient of delicious, easy, and in some cases, totally make-ahead brunch dishes that will delight guests on Easter morning.

Here are 5 fabulous recipes--all containing eggs as the key ingredient--for brunch dishes that we'd love to enjoy on Easter, or any time brunch seems like the perfect way to entertain.
Scrambled Eggs with Smoked Salmon and chives
Makes 8 servings
16 eggs
2/3 cup light cream
3/8 cup chopped fresh chives, plus extra to garnish*
8 oz. smoked salmon, cut into small pieces
4 Tbs. butter
16 slices of rustic bread, toasted
Sprigs of dill for garnish, if desired
Directions:
Break the eggs into a large bowl and whisk together with the cream and chives.
Season to taste with salt and pepper.
Melt the butter in a large nonstick skillet and pour in the egg and chive mixture.
As soon as eggs begin to set, stir in the smoked salmon
When the eggs are cooked to the stage you like (the recipe calls for them to still be creamy), remove from the heat and spoon onto the prepared toast.
Serve immediately, garnished with an extra sprinkling of fresh chives or a sprig of dill.
Note: You can use chopped green onions, or sautéed diced onions instead of the chives for a more intense onion flavor, or substitute chopped dill for the chives for a slightly more subtle flavor.
Recipe adapted from Trinigourmet.com and photo by The Food Network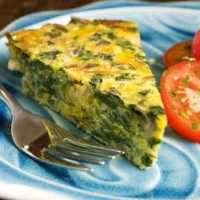 BRIE, SPINACH AND SUN-DRIED TOMATO QUICHE
Makes 12 servings
2 9-inch pie crusts, frozen
1 pint heavy cream
5 Eggs, beaten
Hot red pepper sauce dash
A dash of Salt
a dash White pepper
1 cup fresh spinach, chopped
1/2 cup sun-dried tomatoes, julienned
Brie, chopped
Directions
Preheat oven to 350 degrees F. Prick the bottom of the pie crusts with a fork and then par-bake 10 minutes.
In a mixing bowl, combine the heavy cream, eggs, hot red pepper sauce, salt and white pepper. Mix to blend.
Combine spinach, sun-dried tomatoes, and Brie; divide and place in each pie crust. Top with quiche base in each crust.
Bake for about 45 minutes and serve.
Recipe adapted from Chef Christine Broughton as featured on Plate Online.
Caramelized Onion And Gruyère Omelet
Makes 8 servings
2 Tbs. butter
2 Spanish onions, thinly sliced
2 Vidalia onions, thinly sliced
2 red onions, thinly sliced
2 doz. eggs
2 cup heavy cream
Clarified butter
2 cups Gruyere cheese, shredded
Salt and pepper to taste
Directions:
Melt butter in large sauté pan over low heat. Add onions. Cook slowly for 1 to 1 1/2 hours or until browned and caramelized. Spread on baking sheet to cool.
Whisk eggs until well-beaten.
Whisk in cream.
For each omelet, coat bottom of 8-inch omelet pan with clarified butter. Add 1/4 of egg mixture (1 scant cup). Cook over medium heat until eggs are set but still shiny. Top with desired amount of onions and cheese. Fold over and turn onto plate. Repeat with remaining ingredients.
Recipe adapted from Chef Franklin Becker as featured by The Wisconsin Milk Marketing Board.
More delicious food for parties