Editors' Picks: Game day crowd pleasers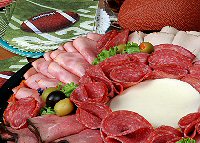 Whether you love football or couldn't care less about the game, Super Bowl Sunday has become a great reason to throw, or attend, a casual party.
So this year, whether you're rooting for your favorite team or it's just an excuse to get together with friends, enjoy making these easy fun foods that guests will love.
Here are some simple and stylish ways to entertain a big football crowd:
First, take advantage of expert advice. See Caterers' Super Super Bowl Ideas. You'll find different takes on both chicken wings and chili--perennial favorites. Also, get some great ideas for party sandwiches, plus ways to create pretty sandwiches for your guests.
We're excited to introduce our first installment of "Editors' Picks," a collection of our Top 10 Super Bowl Crowd Pleasers. We hope you enjoy these terrific party recipes!
Smoking Wings
Cheese Truffles
Spicy Potato Skins
7-Layer Dip
Five-Spice Appetizer Meatballs
Easy Spinach Dip
BBQ ranch quesadilla wedges
Mini-burgers
Tex-Mex Black Bean Dip
Guacamole
You might also enjoy:
More delicious food for parties