Eco-friendlier entertaining and green party planning
Natural party favors
Guests love to bring home mementoes of a beautiful party or fundraiser. Offer them something long lasting, like seeds for regional plants. "This gives people a fun activity—a gift that becomes a project," says Kevin White, of Empire Force event planners, in New York City. American Meadows (AmericanMeadows.com ) sells seed packets for 50 cents each or less.
Party favors (and even some invitations) that you can plant are also great green party ideas. The guest simply puts the seed-embedded paper in a pot or garden area that gets lots of sunshine, covers it with a thin layer of soil, and waters it. Seeds usually germinate in 6 to 8 weeks, if they get plenty of water and sunshine.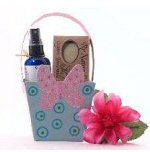 Other gift-bag possibilities for fundraisers or wedding-related parties include natural shampoos and lotions, organic cotton hand towels, or soothing candles made of soy or bees' wax. This organic gift basket party favor containing organic soap and body spray is a great choice.
Photo credit: AmericanMeadows
You might also enjoy:
More expert advice and party planning tips