Eco-friendlier entertaining and green party planning
"Green" dishes and tableware:
For greener entertaining, here are some good choices for dishes, glasses, and silverware—in order of their eco-friendliness:
1) Re-usables—Use your own china, glassware, and silverware. "It's not that hard to wash dishes after a party," says Zem Joaquin of House & Garden. "I think people should do that. Bite the bullet." For a large and more formal party, the cost of renting china, glassware, and silverware can add up—but at least you save clean-up time.
And some of the heavier-gauge solid plastic dishes sold in packs of 25 or 50 actually can be hand-washed, dried, and re-used, if you choose to do so.
Photo credit: Bambu Veneerware by Sur La Table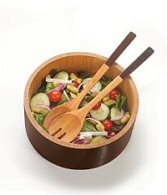 2) Biodegradable dishes and service pieces—One fast-growing party staple is tableware that you can throw away, but that won't live forever in a landfill. Dishes made of sugar cane, or corn-based products will biodegrade in about six months. Bamboo is also hot right now; it's being used in a wide assortment of serving pieces, since bamboo is quickly renewable, strong, and biodegradable.
The Whole Foods chain carries a number of such products. Also, enter "biodegradable" in the search box at the top of Plum Partyto find more than 3 dozen biodegradable dishes, napkins, placemats, and other party supplies.
Other sources for biodegradable dishes, serving ware, and tabletop décor include:
NatureWorks (natureworksllc.com)
World Centric (worldcentric.org)
Greenfeet (greenfeet.com)
Branch Home (branchhome.com)
The Green Office (branchhome.com)
Re:Modern (re-modern.com)
Click here to find biodegradable dishes and other serveware at Amazon.com
Disposable paper and plastics can be Earth-friendly if the paper is made with recycled components and if the plastic is derived from sugar, potatoes, corn, wheat, or other biodegradable materials.
Paper goods will eventually break down, but you may want to avoid most lightweight plastic disposables if your goal is to decrease long-lasting waste.
What type of dishes, cups, and other party ware should you avoid whenever possible? That's an easy one, according to most environmentalists: Styrofoam.
More expert advice and party planning tips