Eco-friendlier entertaining and green party planning
By Lese Dunton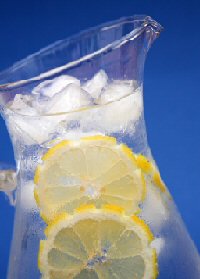 Every year, House & Garden's Eco-Editor, Zem Joaquin, and Leonardo DiCaprio host the "Gorgeous and Green" fundraiser in San Francisco. Glamorous guests drink organic vodka and dine on the scrumptious offerings of Whole Foods while learning the latest in green design and sustainable building.
"In San Francisco, we don't usually get celebrities. But they come out for this event because they think it's important for people to know that you don't have to sacrifice," says Joaquin, who is also editor-in-chief of Ecofabulous.com
Creating a home that's more eco-friendly gets easier all the time. Plenty of beautiful options exist. More come out each day. "Being environmentally conscious is not about sacrifice. I think that's an important message," she says.
Green party-planning easier, too
When it comes to planning parties, eco-friendliness is equally important, adds Kevin White, corporate event planner at Empire Force in New York City (EmpireForce.com). Says White, "We've seen decades and decades of waste, thinking the earth will absorb it. And the earth is now saying, 'I'm not absorbing it any more.'"

Like earth-friendly decorating, green party-planning is getting easier. And in some cases, planning greener parties actually can save you money.
Moreover, green party-planning needn't be an "all-or-nothing" affair. Here are some easy, low-hassle ways to make entertaining and party-planning greener:
More expert advice and party planning tips