Easy, fun, red, white, and blue desserts
Kick off the summer BBQ season by having people over during July 4th weekend. Or suggest a group effort to make the traditional barbecue easy on everyone.
We've got lots of ideas for outdoor entertaining menus. Use them, as well as our great recipes for better burgers, throughout the summer. And to top off your July 4th party, choose one of these "patriotic" desserts--featuring sweet blueberries and luscious strawberries. Be sure to let the kids help make these red, white, and blue treats.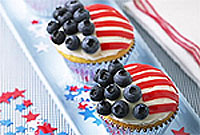 Flag Cupcakes
Makes 24 cupcakes
3 cups blueberries, washed and divided
1 (18- to 19-oz.) pkg. yellow cake mix
1/3 cup applesauce
3 egg whites
1 (8 oz.) pkg. reduced-fat cream cheese, softened
1/2 cup confectioners sugar
1 tsp. vanilla extract
1 roll red-colored rolled fruit snack (from a 4.5 oz. box)
Preheat oven to 350° F.
In a large mixing bowl, beat cake mix with applesauce, egg whites and 1 1/4 cups water for 30 seconds on low speed, then 2 minutes on medium speed.
Spoon batter into 24 (2-inch) aluminum or paper lined muffin cups; evenly divide about 1 cup of blueberries on top of batter; do not stir.
Bake cupcakes following package directions; remove to a wire rack and cool completely.
In a small bowl, beat cream cheese, confectioners sugar and vanilla until smooth. Spoon onto cooled cupcakes; spread to the edges.
Unroll fruit snack and, with a sharp knife, cut into strips 1/8 inch wide by 2 inches long.
On half of each cupcake, arrange strips, as shown, trimming each to fit. Arrange remaining 2 cups blueberries on the frosting on other halves of the cupcakes, about 10 blueberries per cupcake.
Recipe adapted from the U.S. Highbush Blueberry Council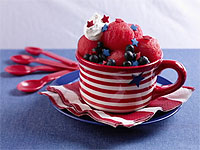 Red White And Blue Watermelon Sundaes
Makes 8 servings
8 cups watermelon balls
4 cups fresh blueberries
8 dollops prepared whipped topping or whipped cream
Red, white and blue star sprinkles
Gently mix together the watermelon and blueberries.
Divide among 8 sundae bowls.
Top each with a dollop of topping or whipped cream and sprinkle with red, white and blue sprinkles.
Serve immediately.
Source: Adapted from the National Watermelon Promotion Board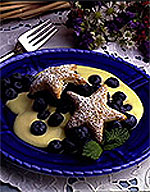 Blueberry and Custard-Filled Star Puffs
Makes 6 servings
1 sheet (from a 17-oz package) frozen puff pastry, thawed
1 pkg. (3-3/8 oz.) instant vanilla pudding and pie filling
1 cup milk
1 container (8-oz.) sour cream
1 pint (about 2 cups) fresh blueberries
1 Tbs. sugar
1 Tbs. chopped fresh mint (optional)
1/2 tsp. grated orange peel
Confectioners sugar
Preheat oven to 400° F.
On a work surface carefully unfold puff pastry; with a rolling pin roll pastry out 1/2-inch wider than its original dimension.
Using a 3-inch star-shaped cookie cutter*, cut out 12 stars. Using a spatula. transfer stars to an ungreased baking sheet, placing them 1 inch apart.
Bake until puffed and golden, about 15 minutes.
Transfer stars to a wire rack; cool slightly.
Using a sharp knife, cut stars in halves horizontally; cool completely.
To prepare sauce: In a medium bowl place pudding mix and milk. Using an electric mixer, beat until mixture is smooth, about 2 minutes. Fold in sour cream; refrigerate covered, until thickened, about 15 minutes.
In another medium bowl combine blueberries, sugar, mint and orange peel; refrigerate covered, until ready to serve. Using a small strainer sprinkle tops of stars with confectioners sugar: set aside.
To serve: On each dessert plate place 2 star bottoms; spoon on 1/3 cup sauce and 1/3 cup blueberries; top with 2 reserved star tops.
*Note: If star-shaped cutter is unavailable, cut a star from heavy cardboard; lightly place on pastry; with tip of a knife, cut out stars.
Recipe adapted from the U.S. Highbush Blueberry Council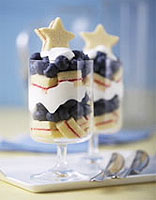 Star-Spangled Blueberry Parfaits
Makes 8 servings
1 loaf (10-3/4 ounces) frozen lowfat pound cake
1/2 cup red currant jelly or other red fruit jam
4 6-oz. containers lowfat vanilla yogurt
4 cups fresh blueberries
With a serrated knife, cut 14 slices, 1/4-inch thick, from pound cake; return remaining cake to the freezer for another use.
Spread 8 of the slices with jelly; top with plain slices; trim off and discard crusts.
With a 1-1/4 inch star or other shape cookie cutter, cut a shape from eight sandwiches; set stars aside.
Cut sandwich trimmings and remaining whole sandwiches into 3/4-inch squares.
Into eight 8-oz. parfait or wine glasses, place half the cake squares, half the blueberries, and 1-1/2 containers yogurt, dividing equally.
Top with the remaining cake squares and blueberries.
Spoon dollops of the remaining yogurt on top of each parfait; top each with a star and serve.
*Note: Small cookie cutters can be found at most craft stores or get them at Amazon.com
Recipe adapted from the U.S. Highbush Blueberry Council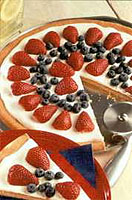 America Cookie Pizza (Fun for the kids!)
Makes 8 to 12 servings
1 package (18 oz.) refrigerated sugar cookie dough
1/2 cup whipping cream
1 container (8 oz.) lowfat vanilla yogurt
1 pint basket (12 oz.) strawberries, stemmed and halved
1 cup blueberries
Heat oven to 350 degrees F.
Grease and flour bottom and side of 14-inch pizza pan. With floured hands, press cookie dough evenly onto bottom of pan.
Bake in center of oven 14 to 16 minutes until golden brown.
Run metal spatula or thin knife along edge of crust to loosen from pan; cool in pan on wire rack. In mixer bowl, beat cream to form soft peaks.
Fold in yogurt to blend. If made ahead, cover and refrigerate.
Just before serving, spread cream mixture evenly onto cooled crust. Arrange strawberries and blueberries decoratively over top; cut into wedges and serve immediately
Recipe adapted from the California Strawberry Commision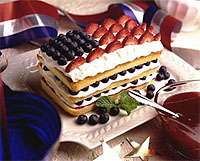 Red, White and Blueberry Pound Cake
Makes 6 to 8 servings
1 loaf (10 3/4-oz.) frozen low-fat pound cake
Raspberry-Orange Sauce (recipe follows)
1 8-oz. container whipped cream cheese
3 Tbs. powdered sugar
2 Tbs. orange juice
1-1/2 cups fresh blueberries, divided
1 cup sliced fresh strawberries
Slice frozen pound cake lengthwise in three layers; arrange in a single layer on a cookie sheet with top layer cut side up.
Pierce layers with fork tines.
Spread each with 2 Tbs. of the Raspberry-Orange Sauce; let stand 10 to 15 minutes so that the cake absorbs the sauce.
Meanwhile, in a bowl stir together cream cheese, sugar and orange juice until well blended.
To assemble cake: Place bottom layer on a serving plate; spread evenly with a third of the cream cheese mixture. Arrange a third of the blueberries evenly over cream cheese.
Drizzle about 1 tablespoon Raspberry-Orange Sauce over blueberries. Repeat with center slice of cake.
Place top layer cut side down; spread with remaining cream cheese mixture.
Decorate cake to resemble an American flag using remaining blueberries and the strawberries.
Serve with remaining Raspberry-Orange Sauce.
Raspberry-Orange Sauce
Makes about 1 cup
3/4 cup seedless raspberry jam
6 Tbs. orange juice
Stir all ingredients together until smooth.
Recipe adapted from the U.S. Highbush Blueberry Council
More delicious food for parties