5 easy gourmet ice cream desserts
Here are 5 sensational and impressive desserts to present to guests! While the make-ahead ice cream pie needs to spend a bit of time in the freezer, no one will guess it only took you a few minutes to prepare any of these special treats.
HOT ORANGE-GINGER BANANA SUNDAES
Adapted from and photo source: Kerrygold
Serves 6 to 8
1 orange
4 firm-ripe bananas
3 to 4 cups vanilla ice cream
1/2 cup butter
1/2 cup firmly packed brown sugar
2 Tbs. minced candied ginger
4 Tbs. orange-flavor liqueur (optional)
Grate enough peel (orange part only) from orange to make 1/2 teaspoon.
Cut orange in half and squeeze enough juice to make 1/4 cup. Peel bananas and slice diagonally 1/2 inch thick.
Scoop ice cream into 4 bowls.
In large frying pan over medium heat, melt butter.
Add brown sugar, orange juice, orange peel, and candied ginger. Stir until blended and bubbly.
Add bananas, gently turn fruit, over medium-high heat until hot and sauce bubbles, 1 to 2 minutes.
Stir in liqueur, if used. Spoon hot fruit mixture evenly over ice cream.
MAKE YOUR OWN ICE CREAM PIE
General directions:
Start with 1 quart vanilla ice cream or frozen yogurt (or any flavor you choose)
1 piecrust, baked, or 1 8- or 9-inch crumb crust
Among the many possible, delicious combinations:

Fruit-flavored: Add one cup of prepared pie filling (apple is delicious) to ice cream and stir until blended. Spoon into crust and freeze.
Cookies and cream: Crumble 6 to 8 chocolate cookies into ice cream and stir until blended. Add to crust and freeze.
Lemon- or lime-flavored: Stir contents of a 6-oz. can of frozen lemonade or limeaid concentrate into ice cream. Add to crust and freeze.

Candy

crunch: Stir in about 4 to 6 oz. of crushed candy bars, such as Snickers, Heath Bar, or plain milk or semi-sweet chocolate.
Suggested toppings:
Just before serving, top ice cream pie with any of the following: Whipped cream, mini-semisweet chocolate bits, chopped nuts, more crumbled cookies or candy bars, chocolate or caramel sauce, fresh fruit, such as raspberries, strawberries, or cherries, etc.
To serve:
Remove pie from freezer 15 minutes before serving.
Top, using any of the suggested toppings, above.
Slice pie with a knife that has been heated in hot water; heat knife again, as needed, until all slices have been cut.
Spoon additional sauce on each slice, if desired.
Photo source: Whole Food Markets.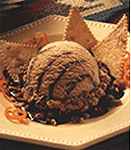 CINNAMON MOCHA CREAM WITH TORTILLA CRISPS
Adapted from and photo source: Häagen-Dazs®
Serves 6
3 tsp. sugar
1 tsp. cinnamon
3 (8-inch) flour tortillas
1 1/2 cartons (28 oz.) coffee ice cream
1/4 cup chopped pecans, toasted
Butter-flavor nonstick cooking spray
Orange zest, if desired
Mexican Chocolate Sauce:
1/4 cup unsweetened cocoa
1/2 tsp. cornstarch
1/4 tsp. cinnamon
1/2 cup orange juice
1 tsp. grated orange peel
Heat oven to 375° F. In a small bowl, combine sugar and cinnamon.
Spray tortillas with nonstick cooking spray. Sprinkle each tortilla with about 1/2 tsp. sugar-cinnamon mixture. Cut each tortilla into 6 wedges.
Place wedges on ungreased cookie sheet. Bake for 7 to 10 minutes or until crisp and edges are lightly golden brown; cool.
In small saucepan, combine cocoa, cornstarch and cinnamon. Stir in orange juice and orange peel. Cook over medium heat, stirring constantly, for 4 to 6 minutes or until bubbly and thickened. Stir in chocolate syrup; mix well; cool.
To serve, spoon 3 Tbs. sauce onto each dessert plate or shallow bowl. Place 1 scoop (1/2 cup) ice cream in center of sauce on each plate. Arrange 3 tortilla crisps to side of ice cream; sprinkle with chopped pecans. Garnish with orange zest, if desired.
More delicious food for parties