Food for parties: Easy, fun popcorn bar for parties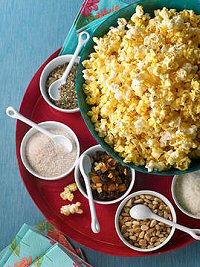 Here's a fabulous idea for a fun, easy-to-assemble party treat for kids' birthdays, tween or teen sleep-overs, or a movie night with the girls. A popcorn bar is an easy and inexpensive way to offer fun snacks.
To set up the popcorn bar start with a very large bowl or a few large bowls of plain popcorn. Choose cute bags or containers for guests to put their popcorn in.
For example, you might want to hand out popcorn bags (like the one shown below), popcorm boxes, takeout boxes, or even plastic champagne flutes.
For toppings, set out several smaller bowls, or perhaps a divided serving dish, plus shakers for powdered and spicy toppings.
The best flavor assortment: both sweet and salty toppings. Here is a list of suggested items, adapted from the Popcorn Board.

Spices, herbs, and flavorings:
salt
pepper
oregano
Italian seasoning
garlic powder
cayenne pepper
onion powder
five spice powder
cumin
chili powder
cocoa powder
cinnamon
brown sugar
nutmeg
pure vanilla powder
Toppings:
Nuts and seeds (pine nuts, peanuts, slivered almonds, pumpkin seeds, sunflower seeds)
Cheese crackers, like Cheese Nips or Goldfish crackers
Pretzel sticks or small twist pretzels
Chopped dried fruit (raisins, cranberries, apricots, apples)
Grated cheese (parmesan, cheddar)
Chocolate, peanut butter and butterscotch chips
M&Ms
Wasabi peas
Small graham crackers, (Teddy Grahams, Golden Graham cereal, or other type)
Gummi bears, worms, or other (sounds weird, but kids will love it)
Shredded coconut
Dry cereal
Granola
Miniature marshmallows
Photo credit: The Popcorn Board
More delicious food for parties