Easy Easter Gifts and Fun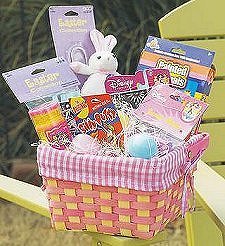 Most kids are excited to find at least some chocolate eggs or jelly beans nestled in Easter grass or tucked inside colorful plastic eggs. But if you'd rather go light on the sweets, and still see your kids' eyes light up on Easter morning, there are lots of ways to do it.
Adorable Easter baskets and grass filler are everywhere: crafts stores, drugstores, even supermarkets.
What to include instead of giant chocolate bunnies and eggs? Some logical choices are cuddly stuffed animals, sheets of stickers, and small games.
Another idea is to build a basket around a particular theme, based on the child's interests. Here are some suggestions:
For the budding artist: crayons, colored pencils, paints, brushes and sketchpads
For the sports enthusiast: trading cards, small souvenirs of his or her favorite team, books about favorite sports heroes.
For the aspiring actress: a feathered boa, plastic sunglasses, a jewelry-making kit, glittery lip-gloss.
For the active kid: Super balls, jump ropes, water guns, and Frisbees.
More ways to make holidays memorable