Easy centerpieces: Flower arrangement ideas
By Alyssa Bernholc
Here are some simple yet effective tips for creating gorgeous floral centerpieces without spending a fortune.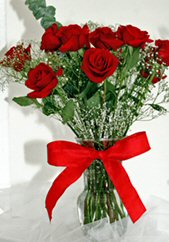 Ribbon for a burst of extra color
This pretty design, sold by Romantic Room Designs, in Monterey, California, uses a bright red ribbon to help make a bouquet of roses look even more substantial. You can use the same technique to accentuate the color of your bouquet, or perk up a bouquet that has begun to fade. Tie a colorful piece of ribbon around the vase to add color, or pick up color from one of the remaining blossoms.
Image source: Romantic Room Designs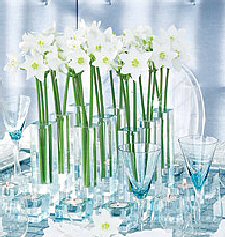 Use multiple vases to create a tablescape
Assemble a number of identical vases (or perhaps water glasses) to make a large grouping of flowers. Place one or two flowers in each and move them around until you're pleased with the overall look. This technique is great to use with a store-bought bouquet to make inexpensive flowers go farther. It's also an easy last-minute centerpiece idea.
Image source: Brides.com.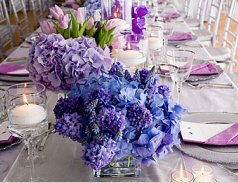 Accentuate flower colors with napkins
Expand the impact of your centerpiece by using napkins that pick up the color of one or more blossoms. This technique works whether you're using a basically monochromatic color palette, left, or if you have a multicolor arrangement. Whether your color focus is soft or bold and dramatic, using it over the entire table will be beautiful.
Image source: Brides.com

More pretty ideas for gorgeous parties