Destination parties: The Ultimate Celebration at Sea
By Iyna Bort Caruso
Thinking about giving--or enjoying--the cruise of a lifetime to celebrate a milestone birthday or anniversary? Consider the idea of clicking champagne glasses on perhaps the most majestic ocean liner in the world. Here's what to expect aboard the Queen Mary 2.
Midway into a transatlantic crossing on the Queen Mary 2 from Southampton, England to New York, 15 couples gather in the Queens Room, a deco-inspired ballroom. The men wear suits and tuxedos; the women, pants suits and gowns. They are almost giddy. Cruise hostess Anja Eyvindsson coordinates this gathering, as she's done on her previous cruises. It is a wedding vow renewal ceremony.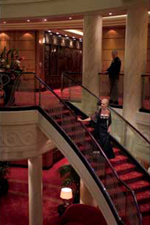 The loudest applause goes to a British couple married 66 years. "All the couples have been through so much together, you can feel the emotion," Eyvindsson says. "You can see the tears well up in their eyes." The ceremony is a simple nondenominational one, sealed with a special QM2 certificate. At its conclusion, cameras shutter, corks pop and champagne flows. "These are among the best moments of my work," says Eyvindsson.
There's a reason why Cunard's flagship pops nearly a quarter million corks a year. When it comes to celebrating life's milestones events, the Grande Dame of the sea is one of the most exclusive places in which to commemorate them.
The QM2 is not just a cruise ship; it's an ocean liner. Cruise ships are designed to travel from port to port. Ocean liners are built to withstand the rigors of the North Atlantic. In style and spirit, the Queen Mary 2 emulates the great ocean liners of yesterday.
On its maiden voyage in 2004, the QM2 was the largest ship in the world, capable of carrying 3,090 passengers at capacity. While Royal Caribbean's Freedom of the Seas has taken over the title of largest ship, the QM2 boasts the only Canyon Ranch Spa Club at sea, the largest floating library (8,000 books), and the only ocean-going Planetarium.
For many celebrants, traveling aboard the Queen Mary 2 makes them feel like they've been transported back to the Golden Age of luxury liners, an era before air travel.
There's nothing quite like making an entrance down the winding staircase of the ship's six-deck high atrium into the Grand Lobby. Fresh orchids, lilies and roses perfume the air as the sound of live music shifts from one club to the next: first harp, then piano, followed by string quartet and orchestra.
More expert advice and party planning tips