Delicious holiday side dishes and desserts
Certain side dishes are part of the traditional holiday celebration. We think these fantastic updates on several of the traditions will add sophistication to your meal.
Even better--all of these dishes can be made ahead and reheated just before the family sits down to enjoy a wonderful dinner together.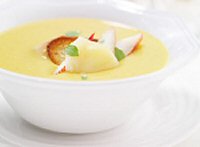 Festive fall soup
Makes 12 servings
4 Tbs. butter
4 cups peeled and diced winter squash (butternut squash, acorn squash or pumpkin)
2 cups peeled and diced potatoes
2 onions, chopped
2 pears, peeled and quartered
6 cups sodium-reduced chicken stock
2 cups milk
1/2 tsp. ground nutmeg
1/4 tsp. cayenne pepper
Salt and freshly ground pepper
1 cup shredded Gouda cheese

For garnish
2 bags croutons
2 pears, finely sliced
12 slices Gouda cheese, cut into triangles
Directions
Melt butter over medium-high heat in saucepan; brown squash, potatoes, onion and pears.
Add stock and milk. Stir in nutmeg and cayenne pepper. Season to taste with salt and ground black pepper.
Bring to boil, then simmer 20 minutes or until vegetables are tender.
Purée in batches in a blender. Return to pot.
Stir in Gouda cheese. Simmer until it melts.
Top soup with croutons, pear slices, and Gouda triangles; serve.
Recipe adapted from and photo by the Dairy Farmers of Canada

Two potato, three cheese gratin
Makes 12 servings
12 strips bacon, cut into ½-inch pieces
2 Tbs. butter
4 cloves garlic, minced
4 cups thinly sliced leeks, white and light green parts only
2 tsp. dried thyme leaves
4 Tbs. grainy Dijon mustard
3 cups heavy whipping cream
2 lb. each, sweet potatoes and Yukon Gold potatoes
1 cup each, freshly grated Parmesan, Asiago and Gouda cheese
4 Tbs. finely chopped chives
Directions
Preheat oven to 400˚F.
Lightly butter a 13 x 9 x 2-inch or equivalent shallow 3-quart baking dish.
In large skillet over medium-high heat, cook bacon, until crisp. Transfer to paper towel-lined plate; set aside. Drain off fat from skillet, reserving brown bits; reduce heat to medium and melt butter.
Add garlic and leeks; cook stirring often for about 3 to 5 minutes or until slightly softened. Remove from heat; season with thyme and stir in mustard and cream; set aside.
Peel and slice potatoes into slices about 1/8-inch thick and place one-third of the potatoes into prepared dish; sprinkle with half of the reserved bacon.
Spoon half of the leek mixture over top. Repeat layer of potatoes, bacon, and leek mixture. Top with remaining potatoes.
Cover with aluminum foil and bake for about 40 to 50 minutes or until potatoes are tender when pierced with a knife.
Remove foil and sprinkle with cheese; bake for 8 to 10 minutes or until cheese melts and sauce is bubbly.
Let stand for 5 min before serving. Sprinkle with chives.
Recipe and photo adapted from the Dairy Farmers of Canada
More delicious food for parties