Delicious, easy party food combos on skewers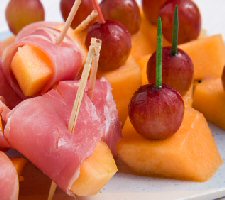 Thinking about having friends over for a casual, fun get-together? Here are some quick, easy, and surprisingly substantial party foods that are simple to prepare and perfect for entertaining during the summer, or any time of year.
Secret to Simplicity
The key to easy, any-time entertaining: Have-on-hand food and easy-serve items. For example, whenever you grill or poach chicken, be sure to cook extra, wrap it securely and stash it in the freezer. The same goes for shrimp. (You can, of course, buy frozen cooked or uncooked shrimp to keep for impromptu entertaining.)
Also, keep a supply of 6-inch wooden skewers on hand, or buy decorative toothpicks for fancier presentations.
At party time, use what's in the freezer or pick up what you need at the supermarket.
Pretty presentation
Party preparation consists of alternating meats, cheeses, and fruits or vegetables on skewers. Then place similar skewers on serving platters. Or for a more artistic presentation, stick the skewers or toothpicks into a pretty whole eggplant, melon, or several large grapefruits from which you've cut a small slice at the bottom, for stability.
Drizzle each skewer with the suggested bottled salad dressings, or dressings made from your own favorite recipes, and place dressings in pretty bowls for dipping. Have plenty of cocktail napkins on hand so there won't be any mess.
What could be easier? Here are some simple and colorful party food-on-a-skewer combinations:
Melon and Prosciutto: For each skewer, wrap a small strip of prosciutto around a cantaloupe or honeydew ball or chunk. Then pierce it with a skewer. A nice option: Add a piece of mozzarella to the end. For dressing, use red wine or balsamic vinaigrette.
Tropical Chicken Bites: Thread cubes of chicken and mango, plus orange segments and avocado slices on each skewer. Use a lemon-based dressing or mild vinaigrette. (Note: Be sure to dip avocado slices in lemon juice to keep their pretty green color.)
Asian Shrimp and Fruit: On each skewer, put a combination of cooked shrimp, pear wedges, and seedless grapes. Serve with ginger or sesame dressing.
Salad on a Skewer: Put cherry tomatoes, squares of red or green pepper, cucumber slices, and broccoli florets on skewers. Drizzle with Italian or vinaigrette dressing.
More delicious food for parties