Cutest little flower girls: 6 Helpful Q & A's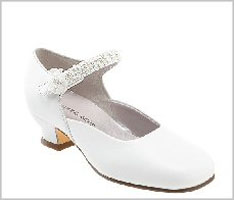 Q. What accessories will she need?
A. To complete the pretty princess look, the flower girl will need comfortable shoes, in ballet slipper, decorative flat, or other styles-possibly with very short raised heels. She'll also need white tights or tights that match her dress.
The bride will probably have a request regarding hair accessories. Some flower girls wear pretty bows, flowers, or even miniature tiaras.
Other accessories for today's cutest little flower girls: Baskets to hold flower petals that are sprinkled on the runner just before the bride comes down the aisle. Alternately, the bride may request a basket of flowers reflecting the colors of the bridesmaids' bouquets. Or she may want her flower girl to carry a single stem of the flowers in her own bouquet.
Q. Should the flower girl be at the rehearsal dinner?
A. If possible, yes. That way, she gets a sense of what she's supposed to do at the ceremony and is less likely to be frightened or overly excited at the big moment. Of course, if she's very young, it may not make sense for her to stay up late the night before the wedding.
Instead, Mom—or the bride-to-be—can set up "rehearsals" at home, and repeatedly go over what the flower girl will do on the day of the wedding. That way, the flower girl will be more comfortable and relaxed, and everyone will enjoy seeing her in her almost-starring role.
All images courtesy of Nordstrom's.
Here are more accessory items you may want to consider:
"Bella" Ballet Flat Microfiber Tights Nordstrom 'Geneva' Flat
More ideas for the parties surrounding weddings