Cutest little flower girls: 6 Helpful Q & A's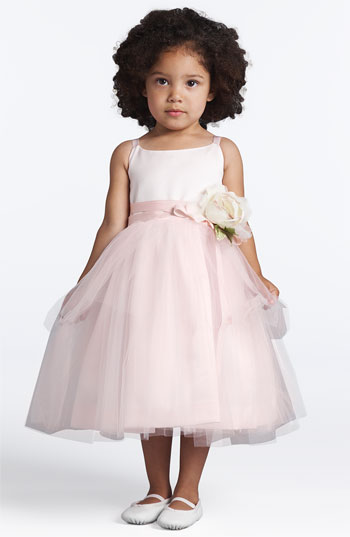 Q. Should she look like a little bride or a mini-bridesmaid?
A. Most important, she should be comfortable as well as cute in her flower girl dress. She also should look like a little girl, and not like a miniature adult.
Beyond that, the color and style of the dress will probably depend on the bride. Some brides want their flower girls dressed in white, perhaps with a sash that matches the color of the bridesmaids' dresses. Others prefer a dress that reflects the style and color of the bridesmaids' dresses. Pale pink and other pastels are popular for spring and summer weddings. Jewel tones are often available in fall; flower girl dresses also come in heavier fabrics, such as velvet and satin.
The good news is that many flower girl dresses are available in multiple colors, to make it easy to accommodate the bride's wishes during any season.
Q. When should I order her dress?
A. As late as possible, to allow for an unanticipated growth spurt taking place between the bride and groom's engagement and their wedding. If you must order the dress sooner than later, you may wish to order the next size.
At very least, try to ensure that the dress has large seams and a large hem, so it can be let out or lengthened-and possibly worn by the flower girl at other special occasions.
Here are some adorable accessories for the cutest little flower girls:
Us Angels Bolero Sweater Us Angels Beaded Headband Ivy & Moon 'Gigi' Bolero
More ideas for the parties surrounding weddings