Cutest little flower girls: 6 Helpful Q & A's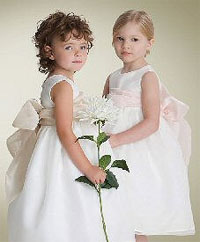 Q. How old are flower girls, usually?
A. Typically, flower girls are between the ages of 3 and 8; tweens are often considered junior bridesmaids. And little ones under the age of 3 may become frightened by all the activity and by the photographers' bright lights. The risk of having very young flower girls is that they may begin to cry--or even totally freeze--as they step onto the runner.
Q. Who pays for the flower girl's dress and accessories?
A. Usually, the parents of the flower girl. If for any reason, the cost of the dress and accessories is too high for the flower girl's parents, the bride may absorb or offer to split the cost with them, if she is able to do so. Click here for beautiful flower girl accessories.
Here are some precious dresses, by US Angels, you may want to consider:
Box Pleat Satin Dress Sleeveless Petal Dress Rosette Organza Dress
More ideas for the parties surrounding weddings