Custom Marketing Solutions
Printing: Marketing Solutions
Yes, you need to be on the Web today. Absolutely.
However, many Web-savvy customers also want printed material to read at their convenience, and to keep for future reference.
The fact is, you still need engaging handouts to give customers when they're in your store, shop, office, restaurant, or other place of business.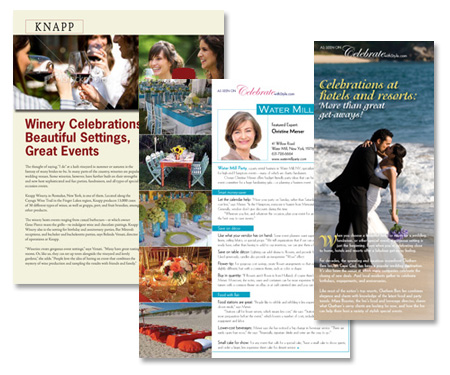 HOW DO YOU BENEFIT?

People don't want to read sales pitches. They want helpful and useful information.
Giving your customers useful and interesting information positions you as an expert--without your having to say it.
We create that content with you or for you.
WHAT DO YOU GET?
Your choice of formats:
All print materials are custom-designed, in full-color with photos, printed on high-quality 100 lb. glossy paper.
Choose newsletters, one-page-flyers, postcards, or magazines of any size.

You decide how much custom content you want:
Take advantage of our experience: We've had more than 20 years of success not only in marketing, but also in writing, editing, and publishing.
We help you express your ideas and thoughts perfectly. And we know how to give your readers information about you and your business in a way that interests them--and doesn't sound like a sales pitch.