Custom Marketing Solutions
E-mail: Online marketing that works

Are you buying ads, hoping customers will stumble on them and actually read them?
It's much more cost-effective to reach customers where you know they'll be: Checking their Inboxes!
Fact: Permission-based e-mail marketing is one of today's most cost-effective marketing tools, returning $43.62 for every $1 spent, according to the Direct Marketing Association.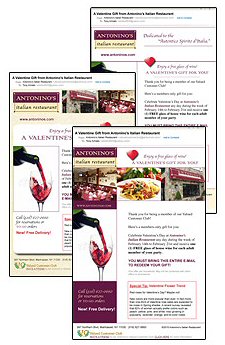 HOW DO YOU BENEFIT?
Higher conversion

: People who've agreed to receive your e-mails or newsletters are more likely to read them.
High ROI

:

It's much easier and cheaper to sell to an existing customer than to gain a new one.
A great way to get the word out: Send them your own coupons. Let them know about sales, holiday specials, discounts, special events, new items, good reviews, special recognition, what's coming in the future.

Get to know your customers:

Learn what they like, want, and how to serve them better.
WHAT DO YOU GET?
An e-mail design that complements your Web site and/or marketing materials.
We import, organize, and maintain your customer database; we keep you on the right side of anti-spam laws.
12 monthly e-mails to as many as 500 people—We help you polish your message, and get it out there.
Fresh royalty-free images (at no extra cost) that reflect holidays, seasons, promotions, new menu items, etc.
The ability to offer a coupon each month--including a coupon code to help track responses
Secure e-mail hosting, with spam filtering
Ability to track how many people opened your e-mail and clicked through to your site
FREE Valued Customer Club loyalty program. When you sign up for e-mail marketing, you get all the benefits of our Valued Customer Club at no extra cost.