Create an Easy-on-the-Parents Kids' Zone
By Anjanette Harper
Bring-the-kids weddings, family reunions, and neighborhood block parties always seem like a great idea: Fun for the kids and some well-needed rest and relaxation for Mom and Dad. But it hardly ever turns out that way. Once the party gets going, the adults often spend most of their time chasing after the kids or listening to complaints about boredom.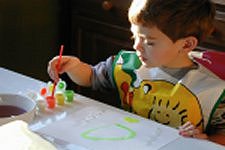 Keeping little ones entertained–and safe—at mixed-age gatherings can be anything but relaxing. When it's your turn to throw the next big event, you might want to consider setting up a "kids' zone." This party-within-a-party will allow the kids to be engrossed in arts and crafts while the adults enjoy some grown-up time.
"Parents love the fact that their kids are busy and happy," says Jennifer Moise, owner of Kids Creations Crafts (kidscreationscrafts.com) in Deer Park, New York. Kids Creations Crafts travels all over Long Island setting up kid's parties at private homes, corporate events, weddings–even restaurants.
Parents supply nothing but the kids! Moise and her staff bring all of the art materials, any equipment that is needed, smocks and clean-up supplies, even tables and chairs to the parties. Moise is a certified and licensed art teacher who hires artists, art teachers and students to run her parties.
Moise and her staff are there from beginning to end, assisting children who need help with projects and making sure all of the kids stay engaged. The idea is to suggest projects that are adaptable to kids of all ages. "A two-year-old won't be able to handle the same tasks as a 12-year-old can, but they can work on some of the same projects," she explains.
For example, Moise might suggest a painting project, collage, or stick craft for mixed ages. The youngest children create their projects with one-on-one help from a staff member, whereas the older children simply need basic instructions and supplies to get started.
Activities Tailored to Kids' Ages
Entertaining kids of all ages isn't as difficult as it might seem, Moise points out. "Two-year-olds just want to play and be involved. For them, it's all about the process; they love it because think they are doing something on their own. The older children enjoy the creativity and are happy to execute their own visions." Groups of older kids tend to enjoy working at tie-die stations to make t-shirts and other items, or creating sculpture and jewelry, she adds.
The cost of typical two- to three-hour parties depends on the number of kids and the types of activities. Plan to spend between $300 and $800 to have a kids' zone for two to three hours. A basic $300 package would include one craft activity, plus such other kid-pleasers as face painting, hair beading or braiding, and fake tattoos for 15 kids. The $800 party would also include some inflatable play equipment, organized games, and perhaps a popcorn cart. At all of Kids Creations Crafts parties, children have something to take home that they made themselves.
For parties that run longer than three hours, figure an extra $50 to $100 per hour. Weddings usually involve three to four hours of entertainment; block parties may require five to six hours of planned fun. Block parties also can involve more expense because they require more staff to wrangle all of the neighborhood children.
For summer months, Moise provides fun rental equipment such as dunk tanks and water slides. So far, she says, her most expensive party has run about $3,000; this one included all the features of the less expensive parties, plus waiter service, a bartender, tables, chairs and equipment.
"We can take most craft activities to almost any location; all we need is room for our six-foot table," says Moise. "If you need the kids to remain clean, we have smocks. We can also do less messy activities such as bead, sticker or foam crafts which involve no glue or paint."
"The Color Me Table and Chairs" from HearthSong, pictured above, is a great option for hosts and hostesses who are looking to entertain just a few children at home.
Click here to find out how you can create your own kids' zone.
When Babies are Party Guests
Simla Akyol, owner of It's a Piece of Cake (itsapieceofcake.net), an award-winning San Francisco children's entertainment company sees kids' zones as a good idea for children over age four. "For infants and toddlers," she adds, "having nannies or babysitters is a must."
Parties in the San Francisco area sometimes include performers such as magicians or puppeteers along with arts and crafts activities," says Akyol. For 20 kids, a party including everything would run upwards of $1,000, she adds.
Setting up a kid's zone at your next event could turn out to be one of those "Why didn't I think of that before?" ideas. The kids will have a great time. And the parents will actually enjoy having conversations without the eye-darting watchfulness required at most bring-the-kids festivities.
You might also enjoy:
More how-to's for great get-togethers