Connecting Families, Making a Difference
By Debbe Geiger
On any given day, Pam Koner, a single mom of two teenage girls, fields hundreds of e-mails. Some are from families who need help, but most are from families who want to offer their services to her charity, Family-to-Family.
Koner talks with leaders in rural communities to discuss their problems, while encouraging businesses and corporations to provide funds, services, or materials where they are needed.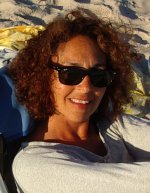 Koner came up with the idea for Family-to-Family on a Sunday afternoon after reading a story in The New York Times about one of the country's poorest communities, Pembroke, Illinois. When she learned that the food pantries there ran out of food at the end of each month, she decided she had to do something.
Koner contacted the local pastor mentioned in the article to suggest that she match up families in her hometown of Hastings-on-Hudson, New York, with families who needed help in Pembroke.
The owner of several businesses that provide child care and after-school services, Koner found it easy to reach out to her friends and neighbors. Within one month, she had linked a total of 34 families in her community to families in need who lived in Pembroke. To help donating families know what was needed, Koner created a website, www.family-to-family.org. There, donor families access monthly shopping lists and particular types of clothing or perhaps toy drives, for people in need in the communities they serve.
Five years, hundreds of families
Today, Family-to-Family has grown to include approximately 475 donor families who send monthly food shipments to families in 13 communities in 10 states. During a typical holiday season, nearly 415 turkeys and 70 hams travel across state lines to families in need. Coats, blankets, shoes, gloves and scarves, linens, over-the-counter medications, pre-packaged foods, personal care items, and other staples are also part of the shipments that mean so much to so many.
Although Koner remains the day-to-day point person, she soon realized she couldn't do everything herself. So she created a board of six volunteers to help her run the organization. Then she set up chapters throughout the country, which are also headed by volunteers. The chapter leaders assume responsibility for families in one or more communities that are supported by the organization.
Each month, donor families drop off the packages for their adopted families at the home of one of the chapter leaders (As of early 2007, 28 chapters in 13 states are listed here.
The leaders, in turn, arrange for bulk shipments to the communities for which they are responsible. Shipping services are provided free by companies that include Federal Express and Old Dominion Freight.
More ways to help wonderful causes