Company Party Tips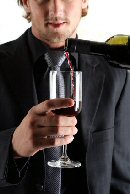 Thinking about what to do for your company holiday party? Planning another type of business event?
While business entertaining has declined dramatically in the past couple of years, the good news is that an estimated 81% of businesses plan to celebrate the holidays with a party in 2009.
Great way to say "thank you"

Smart employers know that company parties are a good way to show appreciation to employees--especially during rough times.
If you're in charge of party planning. here are some helpful tips:
Have the party off-site, if possible:

Arrange for a change of scenery, if it's at all feasible. Have the party in a restaurant or catering hall. Check out the party facilities at a local museum, aquarium, or botanical garden. It's wise to start making inquiries several months ahead. But it still might be possible to find a great venue at a reasonable price, this year.

Offer food with the drinks:

Cocktail parties are great to promote mingling. If you're going to be serving alcoholic drinks, however, be sure there will be plenty of food, as well. That way, guests won't feel the effects of the alcohol as quickly as they would while nibbling on the occasional tiny hors d'oeuvre. Employees and/or other guests will certainly be happier—and much safer, too.

Hire a bartender:

Wherever the party is held, be sure there's a bartender. You should have at least one bartender for every 75 to 100 people.

Be sure to have enough wait staff:

If your company party will include lunch or dinner, ensure that everything will flow smoothly. The general rule of thumb for sit-down service: At least one server for every one or two tables. For passed hors d'oeuvres or a buffet, figure one server for every 8 to 10 guests. Even if the party is going to be in the conference room, it's a good idea to hire helpers, so that everyone can enjoy the party.
You might also enjoy:
More business party ideas