Choosing the right photographer
At the Event
Go easy on the make-up: Everyone wants to look as good as possible, but piling on make-up isn't the best way to achieve it. "I always suggest subtle make-up," says Chris Brandt Hoopes, a photographer in Knoxville, Tennessee.

"As a photographer, I think of how things would look in black and white. Too-deep colors can make it seem as if you're wearing black lipstick and dark eye shadow," she maintains. "If the make-up is subtle and complements your skin tone, the picture will come out beautifully."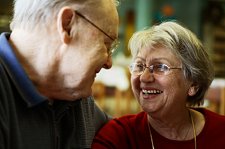 Help to create intimate moments: For a 50th anniversary party, Aldridge says she asked the couple to share a secret or a memory from the years they've spent together. "I always say, 'Tell me a story, or something funny that you've got on him. Or, tell me the most touching thing he's ever done for you.'

"As people speak, I take pictures, and get them to laugh," she says. "This exercise gets them to open up. They give each other that look. Then you get the tender moment that's priceless at any age.
Relax and be you: Many people freeze when a camera is pointed at them. "They tend to pose, or they see a camera and smile," says Grinder. "I like bringing the inner and outer beauty together, naturally," she says. "And you don't want posed smiles hanging on your walls. You want to see real smiles."
Let kids be kids: It's a rare child who will pose like an angel for any length of time. And most photographers say the best shots show kids being themselves. "I like to let them play around," says Grinder. "They're happier and we're happier. I catch them doing whatever they want. Those pictures are the ones parents hang on their walls because they're getting their children in their true light."
Capture the fun: At a recent 40th birthday, Aldridge took the usual shots of the guests arriving, talking in little groups, and toasting the guest of honor.

However, she says, the best shots were taken once the party was fully underway, guests had enjoyed a drink or two, and had put aside some of their inhibitions. "I took pictures of them laughing hilariously," she says. "The client loved them. She told me, 'Those pictures shows us as we really are.'

"They were just having fun," says Aldrich. "But that's what the essence of capturing wonderful memories in pictures is all about."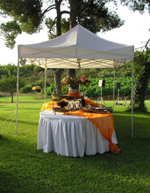 You might also enjoy:
Great rentals for backyard birthday bashes
Top tent tips for your outdoor celebrations
Party pro reveals what party guests really love
Working with a DJ: Listen to a pro's party tips
Selecting the right band
More expert advice and party planning tips