Choosing the right photographer
By Debbe Geiger
Whether it's your baby's first birthday or Mom and Dad's golden wedding anniversary, the hours spent celebrating once-in-a-lifetime milestones often fly by too quickly. Once the cake is cut and the presents are opened, all that really remain are the photographs to keep memories alive.
While most people think of hiring a professional photographer for weddings and Bar/Bat Mitzvahs, they don't often consider the value of engaging a pro to capture life's other major occasions.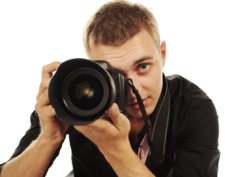 Think about it: For a large and important gathering, you're likely to forego the cooking, serving, and clean-up, turning those responsibilities over to an experienced caterer or restaurant. Now shift your focus to the photos: Picture the likely differences between photos taken by well-meaning friends with digital or disposable cameras and those shot by a professional.
Go with a pro
The fact is, the pros have the knowledge, experience, and top-end equipment to capture the joy of the people who are most important to you, as well as the can't-miss moments of your event. They can get every gorgeous detail--day or night, indoors or out, in bright rooms or those lit by flickering candles.
Most professional photographers also do minor photo-retouching, such as softening skin tones, which can transform so-so images into beautiful, flattering photographs that you, your family, and friends will enjoy looking at forever.
Here's expert advice on how to ensure that your celebration pictures are both warm and beautiful:
Before the Event
Choose the photographer whose style is right for you. The relationship with a photographer is an important one, says Tammy Grinder of Artistic Images by Tammy in Camden, South Carolina. Some photographers shoot traditional, posed photographs while others take some candid shots, or employ a more photojournalistic approach, in which the goal is to capture the flow of events without having subjects pose for photographs. Some photographers employ a mix of techniques, depending on what clients want.
Check out photographers' Web sites, their samples, and references. Talk to them about their approaches before making your selection.

An important note about contracts: While fees can vary dramatically, expect to pay most professional photographers between $100 and $200 per hour. Some photographers offer packages that include a certain number of photos, perhaps with several enlargements or an album. Others price everything on an à la carte basis.
Once you've decided on the style of photography you want, be sure to find out exactly what each photographer's fee covers. Of course, your contract should spell out every detail of what you are entitled to and when—such as when images will be posted online for guests to order their own reprints, etc. See some more good tips on specifying contract details on the blog, Brides Know Best. That way, there are no surprises later.
Meet ahead of time: That pre-event meeting is important because it lets review your timeline for the occasion. Consider that sometimes the moments leading up to the party make for the best candid shots.

This is also the time to let your photographer know which pictures are most important to you–such as catching Grandpa when he's not frowning. Also discuss your personal concerns. Christa Aldridge of Christa's View Artistic Images in Mesa, Arizona, recalls one client's worry that she looked angry in photographs.

Reviewing personal concerns will help make you less self-conscious. What's more, the photographer will be on the lookout for opportunities to capture wonderful shots that otherwise might have been missed.
More expert advice and party planning tips