Chef Susan Maddox Shares Her Favorite Holiday Recipes
By Debbe Geiger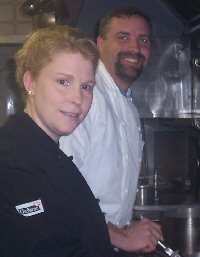 Chefs Susan and Michael Maddox, a busy young husband-and-wife team, own one of the Chicago area's most renowned restaurants.
They took over the legendary Le Titi de Paris two years ago. Having both graduated from Chicago's top-rated Kendall Culinary Arts College, they agreed to maintain the tradition and integrity of the Arlington Heights, Illinois, French restaurant that had been a culinary landmark for more than three decades.
Susan and Michael offer a classic French menu as well as contemporary and exotic specialties such as New Zealand Venison Loin au Poivre and Sake Marinated Alaskan Halibut with Shrimp Dumplings.
Running a top-rated restaurant easily can become all-consuming. But the couple also has two young children, nine-year-old daughter Emily, and seven-year-old son, Bryce. Despite the long hours and never-ending demands of owning the restaurant, Susan and Michael remain steadfast in the conviction that, as Susan puts it, "Our family, traditions, and values come first."
Home for the Holidays
Their belief is reflected in the restaurant's vacation policy. The restaurant is closed for Thanksgiving, Christmas Eve, Christmas Day, and New Year's Day. "The staff needs to enjoy their families as much as we need to enjoy ours," Susan emphasizes.
Though Susan and Michael work long hours side by side in the restaurant kitchen, they enjoy spending time together in their home kitchen, as well.
One of their favorite meals is the one they make on Christmas morning. That's when Emily and Bryce help their parents create Christmas crepes, or as Bryce calls them, "creeps."
"On Christmas morning, after we open the gifts, we make crepes with fruit," Susan says. "Each of us likes to eat the crepes differently. Michael prefers Brie and ham and Bryce likes cheeses. Emily just wants peanut butter on hers."
After their traditional Christmas breakfast, the rest of the day is usually spent with Michael's family.
New Year's Day Dinner
Susan's relatives typically come to visit on New Year's Day. Even though Susan does much of the preparation in advance, she works hard to prepare her fabulous New Year's Day dinner. So she doesn't want guests to fill up on appetizers. Her policy: "When you walk in, you get a glass of wine and within 15 minutes you sit down and eat."
The traditional New Year's Day main course in the Maddox home is what Susan calls her spin on the classic Beef Wellington. She makes her version with loin of lamb covered with spinach, asparagus, and morels, all wrapped up and baked in puff pastry.
"I use lamb because it's different and personal," she says. "I like this dish because we work on New Year's Eve. Lamb doesn't take as long to cook as beef. I can sear the lamb loin, put it in the fridge, and then build the rest of the dish the next day."
Many of the other steps also can be done in advance, she notes, which keeps last-minute preparation at a minimum.
Here, Chef Susan Maddox shares her family's favorite Christmas and New Year's Day recipes:
More ways to make holidays memorable