Celebrity Event Planner David Tutera's Top 5 Picks for Destination Celebrations
David Tutera is one of the titans of the event planning world. His name is synonymous with style, elegance, creativity—and star-studded fêtes.
Tutera has fashioned events for such boldface names as Jennifer Lopez, Matthew McConaughey, Elton John, Barbara Walters, the Rolling Stones, Vice President Al Gore, Kenneth Cole, Tommy Hilfiger, Star Jones, and Susan Lucci. He has his own one-hour TV series on the Discovery Home Channel and is an author of four books, among which is the book shown below, Big Birthdays: The Party Planner Celebrates Life's Milestones
.
Here, Tutera offers Celebrate with Style his recommendations for five great places at which to commemorate such wonderful occasions as milestone birthdays or anniversaries.
Beach Party in New England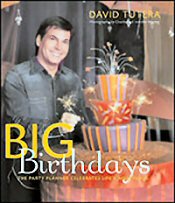 "During the summer months, there is no place better to have a party then on the beach," says Tutera. "The New England coastline is quaint and provides the perfect backdrop to start celebrating before a wedding, or just enjoying a gorgeous setting for any affair. And one of my favorite places is The Whalewalk Inn & Spa at the Cape Cod National Seashore. It's an old whaling master's home."
For a relatively small affair, it's possible to rent out all 16 spacious rooms, which are spread throughout six buildings on the 3-1/4-acre property. Activities such as hiking, golf, kayaking, fishing, and boating will keep guests busy. Or, the attendees can walk the beach, relax in the spa, or dine on gourmet fare, such as their famous Granola Breakfast Pizza-a generous slice of pancake pizza topped with homemade granola and finished with bananas, strawberries, blueberries, and a dollop of sour cream. Reason enough for a visit!
For more information: www.whalewalkinn.com
Vineyard in Virginia
According to Tutera, "Virginia is the perfect place if you want a party with southern hospitality. You can sit amongst the sprawling vines at Barboursville Vineyards. It's a wonderful setting to serve rustic foods and enjoy great bottles of wine."
The 1,000-acre estate, with 125 acres of vineyards and overlooking the Blue Ridge Mountains is home to a classic Georgian villa with three balconied suites and a cottage with two more. The winery was even commanded to furnish wines to entertain Her Majesty Queen Elizabeth II during her recent visit to Virginia! Join in one of their wine festivals/special events or just delight in food and drink with family and friends.
For more information: www.the1804inn.com
A Castle in Rhode Island
"What better spot for an upscale bridal shower or celebration of any wonderful event than a scenic Rhode Island castle," declares Tutera. "This 60-room mansion, originally designed for a wealthy bachelor, is furnished with art and antiques from 37 Newport manors and 33 countries. For larger events, consider a castle for one of these totally fun, themed affairs: A Mystery Whodunnit, Medieval Banquet, Victorian Dinner, or Roaring 20's & Gatsby affair.
For more information: www.belcourtcastle.org
Resort in the Caribbean
Tutera loves the idea of a destination mini-vacation getaway on the tropical island of St. John. He suggests: "Celebrate with blankets spread along the beach, as the waves crash in the background. The Westin Resort & Villas is a fabulous and sophisticated venue."
Pure white beaches and crystal blue waters take center stage at this sprawling resort, with 174 guest rooms/suites and 92 villas. Gather friends for a long weekend of water sports, tennis, golf, beaches, and spa treatments. Toast the bride-to-be or "Birthday Boy or Girl" with a Caribbean dinner at Chloe & Bernard's, one of the Virgin Islands' top restaurants. It's the ultimate in private luxury.
For more information: www.westinresortstjohn.com
Relaxation in the Arizona Desert
Relaxation and spa destinations are the rage, and Tutera acknowledges the appeal of a party in the desert. "During the day, plan holistic healing sessions for your guests to relax and rejuvenate. Come sundown, party amongst the cacti. My recommendation for a beautiful site is the Boulders Resort and Golden Door Spa in Scottsdale."
For the greatest tee party around, enjoy world-class golf. The resort is home to two championship-level, Jay Morrish-designed courses. For those less inclined to hit the links, there's the decadent 33,000-square-foot Golden Door Spa featuring Native American wraps, Lastone therapies, and rock climbing tours.
Positioned on 1,300 acres of pristine Sonoran Desert and surrounded by 12-million-year-old boulder formations, there's no shortage of space (157 casitas and 56 villas). So invite the whole crowd!
For more information: www.theboulders.com
More how-to's for great get-togethers